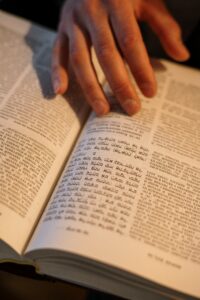 Getting to know, trust, and apply the Bible is one of the most important things you need to do to grow as a follower of Jesus.
Unfortunately, it's also not a priority for many people today who believe that instead of us working hard to know and understand our God, God should simply always be on call to make us feel better. That's a sad and deceptive way to live because that isn't what God is about in our lives and if we constantly whine and demand He always make us happy, it will never happen the way we want it to!
You aren't like that! You are reading a non-entertaining, sometimes grumpy website that continuously challenges you to put in the time and work to know, trust, and apply the Bible and one of the most important things for you to be able to do that is to read through the Bible in Chronological order. I have lots of materials on this site about that, but I am also teaching a class of wonderful people at my church who haven't read the Bible that way in the past.
We are working on a foundation to start reading through the Bible in that way after the first of the year. To give them a solid foundation of trust and understanding, I'm going through the topics below and I want to share them with all of you also.
Of particular interest and value to everyone is this series on How We Got the Bible. In it, I'll share the history, the manuscript evidence, and related information on how and why we have the Bibles we have and why we can trust them to teach us the very words of God.
I can't encourage you enough to follow these lessons for yourself and to make use of them to teach others—they are all here for you—please take advantage of them.
Sign up for the Bible805 Newsletter HERE for notifications of the new lessons as they are posted.
Below are the lessons done so far, click on them to go to them (I'll add new ones as I get them done):
How We Got the Old Testament and why we can trust it as the Word of God
How We Got the Apocrypha and the relationship of the Septuagint to it
Here is the schedule for the classes I'll be teaching in the fall of 2022. The lessons will be posted on the Saturday after the class.