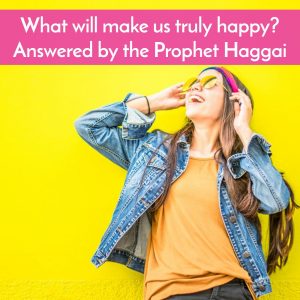 What makes you truly happy and satisfied?
Is its financial security? A loving family or relationship? A beautiful home?
Though all of these things, financial security, loving family, beautiful home are what most of us want, we'll see in our podcast today that these are not what creates true happiness and inner satisfaction and peace—but we won't stop with being negative, but will talk about how we can achieve not only what we want, but what we are created for.
Our source of for this lesson is the Prophet Haggai and that's what our podcast is about.
CLICK the following link to download a PDF of the notes: NOTES FOR HAGGAI–how to be truly Happy
The full copy follows.