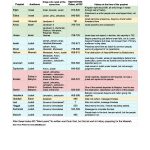 One of the most important things to keep in mind when you read through the Old Testament Prophets is that that all of these stories took place in real lives in actual history. I'll talk about that in the individual lessons, but to help you place them, I created a chart that will help you see what prophets preached when. I based it on the work of others, but none of them that I found and that were copyright-free presented the material in a way I thought was as useful as it could be. I trust this makes sense.
The nation of Israel divided into two parts, Israel and Judah after the reign of Solomon. Both as nations deteriorated in their faithfulness to God, though Judah had some periods of revival. Ultimately Israel was conquered by Assyria and went into captivity never to return in 721 BC. Judah was conquered by Babylon in 586 BC and returned to the land after 70-year captivity. During all of these times, God sent his prophets to challenge and encourage his people.
I organized the chart so that the prophets to Israel are grouped together; as are the prophets to Judah, those who spoke to the captivity, and the books to other nations.
Following is a PDF of the chart—you can use it however you want.
Click on the chart below to download—you may use it however you wish.