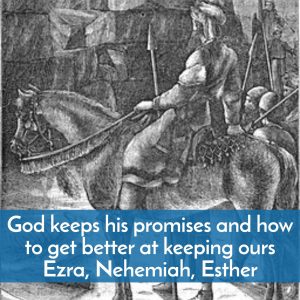 When someone makes a promise to you, do they always keep it?
What about God? Does He always keep his promises?
In our podcast today we'll see how God kept his promise to return people to their homeland after they'd been taken captive for 70 years.
But as for the people of God, we'll see how well they kept their promises to God and then we'll end with some applications on how we might all get better at making the changes in our lives we want to make, but have trouble following through on.
Below the podcast is a PDF of the notes and below that the notes printed out. They are longer than usual and have more content than the podcast. I wanted you to have all the verses and some of the content that I summarized.
To download the PFD of the notes, click the following link: NOTES God keeps his promises…and how to get better at keeping oursContinue Reading