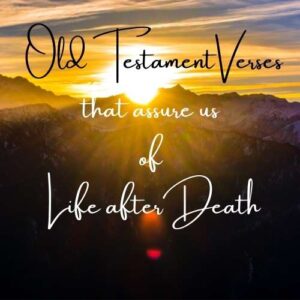 The Apostle Paul said, "If only for this life we have hope in Christ, we are of all people most to be pitied (1 Cor. 15:19)." That is so true because becoming a Christian, contrary to what some teach, does not mean life will be easy and without troubles.
In reality, living as a disciple of Jesus in the self-giving way he wants us to live can mean extremely difficult challenges and sometimes deprivations of minor things like giving up time for others or of major sacrifices of giving your life for others or the faith. Christians do all those things because this life is not all there is.
Because of the importance of that reality, it upset me deeply when I discovered that some pastors and Bible teachers believe that the Old Testament did not have a clear belief in life after death. They say that for most of the Old Testament believers in Jehovah only believed in a shadowy, vague afterlife in Sheol.
Based on my study of the Bible and History (see other lessons on this topic) I believe that though the Bible more fully develops revelation on major doctrines as time goes on (for example, the Messiah is promised in the Garden of Eden, prophecies about him are given through the Old Testament, and we see him in person in Jesus in the New Testament), that the core truths of the Christian faith, particularly about something as important as bodily resurrection should be consistent throughout the Biblical record.
And it is! One does not need sophisticated historical analysis to see this. You simply need to read what the Old Testament says from the earliest book written to the later prophets. Throughout all is a CLEAR belief in fully, conscious, bodily resurrection. That is what this lesson is all about.
Below is a video redo of my first podcast on this. I'm starting a YouTube channel with free lessons that you can use for your personal spiritual growth and that you have my permission to use without charge for any class or group that might find them helpful.
Following the video is a downloadable PDF of the notes for the video and below that is a transcript of it.
CLICK the following link below to download notes for the video:  LESSON NOTES Life After Death in OT
Following is a transcript of the video: