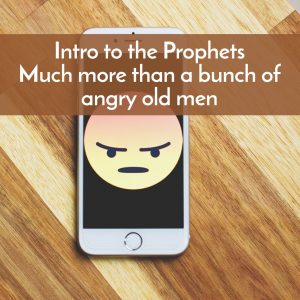 When you hear the term prophecy, what do you think of?
For many people, we think of dire warnings of an end-time apocalypse, with images of our favorite sci-fi movie dancing in our heads.
But is that what prophecy, specifically prophecy in the Bible is all about?
In our podcast today we'll see that that the books of the Bible after the poetic books we just studied, that we call the Prophetic books and that make up a major part of our Old Testament are about so much more and that they have surprising applications to ups, not just in the future, but for how we live our lives today.
This section of the Bible can be confusing as the parts that go together historically with the preaching of the prophets are scattered in different places in the Old Testament. The history is told from differing viewpoints in both Kings and Chronicles and then the prophetic books that were written during specific historical times. All of these parts are grouped at the end of our Bibles and not precisely in order of when the prophetic messages were delivered.
This makes it extremely challenging to try to make sense of it all, particularly of the prophets who at first reading appear to be simply ranting against evil interspersed with cryptic warnings about future calamities.
However, when the prophets are read IN the proper places where their messages were spoken in historical contexts and when we understand how to correctly read and interpret prophetic messages, the Old Testament and what the Lord wants us to learn from it will open up to you in new and exciting ways.