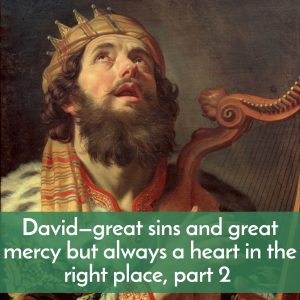 Have you ever felt you can't forgive yourself or that you've don't things so that God can never use you for anything significant?
If so I have great news for you!
We will continue our look at King David in today's lesson. His sin with Bathsheba was only one of the serious sins in his life and yet, he ended his life forgiven and greatly used by God.
We'll learn about God's great forgiveness and love in our lesson today and how we can learn to forgive ourselves and press ahead to do things that will give our lives meaning and joy no matter what we've done.
Below the podcast is a PDF of the notes and following that the notes are printed out.
Click the following link to download the PDF of the notes: Notes for David, Part 2