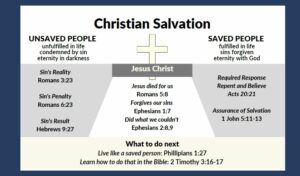 What does it mean to be a Christian? What is Christian salvation all about?
This infographic and the verses included with it explain the meaning of what Christian salvation is all about. I put it together as part of a series of lessons I was doing in my Sunday School class on why you can trust the Bible. We were looking at other religions and comparing them to the Christian faith and one of the most important differences is their view of salvation compared to the Christian view.
In all other religions, people have to do things to make themselves acceptable to God. The Christian faith recognizes that we can't ever do that and that Jesus died to cancel the debt of our sins. Here is the link, the bridge between us and God, and that is what the chart on this video illustrates.
Below is a podcast I did on it as well as a video to help explain it.

To download a free copy of it, plus the video and  the PowerPoint explanation of it, go to: https://payhip.com/b/v83qT
If you'd like updates on materials from Bible805.com, click the link here to sign up for our newsletter, CLICK HERE.