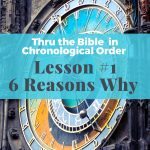 Editor's Update: A few weeks into this project and I realized I needed to clarify that you don't have to start this project at the first of the year—you can begin or jump in anytime, so I decided to add this note—following is how the post originally started:
Along with losing weight, getting more done, simplifying your life and other commendable goals, is reading through the Bible one of your resolutions for the year?
If so, I'd like to share a way for you to do it that will change your life more significantly than any diet will!
Hi, I'm Yvon Prehn and Welcome to Bible 805!
Today we're going t to talk about…..
The Six Benefits of reading (or listening to) the Bible in Chronological order, and probably why you haven't done it
There are many ways to read through the Bible each year—but there is one that is by far the BEST way to do it (and I'll be going into the reasons why it's best shortly) and that is to read through the Bible in Chronological order. That means to read the books (or parts in some cases) in the order they happened, not the order you find them in the Bible.
Don't worry about figuring that order out—I've got a schedule you can download to do it and I'll be doing podcasts in the coming year to guide you through it. (starting Jan. 6 for 2019)
But for now, since reading through the Bible in Chronological order is a somewhat daunting task, it's worth asking why do it? To answer, ask yourself, why read anything, watch any movie, learn any new information in a certain order?Continue Reading