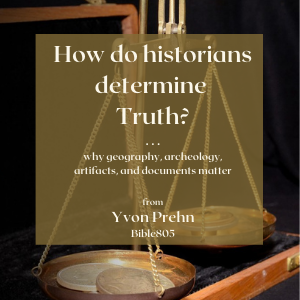 How do historians know what is true?
Do they write up whatever sounds good to them?
Or do they listen to legends or whatever do they do?
In a previous lesson, we talked about the importance of truth and how truth is that which corresponds to reality.
We then talked about how history is a useful way to determine what corresponds to reality and how this is foundational to determining if a religion is true. But how do historians go about figuring out what corresponds to reality? Obviously, we don't have time machines. We can't go back to the events themselves.
They do it through evidence and in this podcast we'll talk about the evidence of geography, archeology, artifacts, and documents.
Below is the podcast and below that a transcript of it: