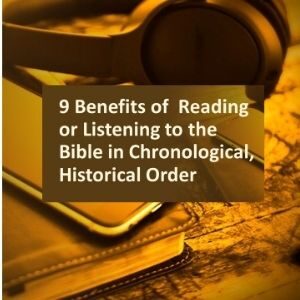 Editor's Update: I updated this entry to now 9 Benefits of reading or listening to the Bible in Chronological order and why you probably haven't done it. Below is the updated version with downloadable schedules and blank journal pages. 
Along with losing weight, getting more done, simplifying your life and other commendable goals, is reading through the Bible one of your resolutions for the year?
If so, I'd like to share a way for you to do it that will change your life more significantly than any diet will!
Hi, I'm Yvon Prehn and Welcome to Bible 805!
Today we're going to talk about…..(the podcast continues below these downloads–I didn't want you to have to wait for them).
PLEASE NOTE: If you downloaded a schedule BEFORE 1-2-2021—there are some mistakes on it. I have corrected them and please redownload the copies here. I do apologize!!!
Following are 3 versions of a NEW Schedule for Reading or Listening to the Bible in Chronological Order, plus 2 versions of a blank journal page you can download to make notes, record responses for your journey through the Bible. CLICK the link HERE to download them: Reading Plans and Bible Reading Journals in PDF format
There are schedules that are numbered and not dated, ones dated that you can use any year, and then one specifically for 2021 that has the Sundays marked. You can make copies of any you'd like and share them.
Below is a podcast and links to a video of the reasons why I put the books in the order I did. Below them is a copy of the text for both.
Below is a Podcast on why I put the books into the order I put them in.

Click on the image below to go to a video that explains why I put them in the order I did. After the video is a transcript of the podcast and video if you prefer to read the reasons for the schedule being in the way it is.