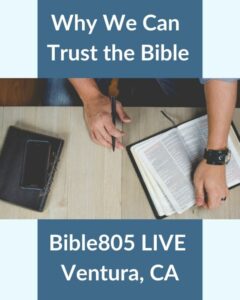 It is with great joy and excitement, I'm announcing LIVE teaching classes from Bible805 (basically me, Yvon) at my home church! For many years I've taught Bible classes, but needless to say live teaching was greatly cut back during the pandemic.
Many of you continued to listen to Bible805 teachings through the podcast and videos and I've loved producing them, but teaching in person is the best of all.
If you are in the area, please join us. Though the lessons are part of a series, they are also all self-contained, so you can drop in at any time.
Below is a little more information about it.
Bible805 Live Class: Why We Can Trust the Bible