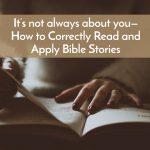 We love reading the stories in the Bible, but we can be disappointed if God doesn't do for us what He did for the Bible characters. Though we didn't have a live class this week, I recorded a podcast on the topic of How to Correctly Read and Apply Bible Stories.
This is a challenging topic for our Bible study because the stories are often our favorite parts of the Bible and what we remember. But valid application of what we read can be difficult.
For example, in the story of Gideon putting out a fleece for God's guidance, does that mean that we should come up with seemingly impossible tests to determine God's will? We will discuss the answer to that question and have additional guidelines on how to correctly read, interpret and apply Bible Stories/Biblical Narratives in this podcast. The podcast notes are below the audio you can download to keep in mind as you read your Bible.
Click on the following link to download the PDF of the notes: How to Correctly Read and Apply Bible Stories
I realized that not everyone wants to download a PDF, so I printed them out below:Continue Reading