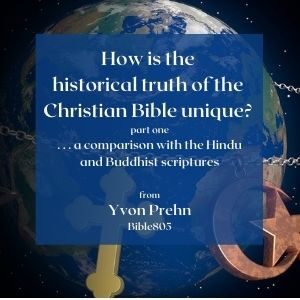 Aren't all religions the same?
Don't they lead to the same place and aren't all their holy books similar?
If you've asked questions like these, I've some fascinating history that helps answer these questions.
In the last two lessons/podcasts we've talked about what is truth and then how historians determine what is true. Please listen to them as background for this and the next lesson/podcast.
In this lesson/podcast we'll apply what we talked about as we evaluate the historical truth of the Hindu and Buddhist scriptures and compare that with the Christian Bible. I'll be giving you the background and overview of each religion, some samples of their scriptures, and then a historical analysis of them.
Below is the podcast and following that, notes on it.