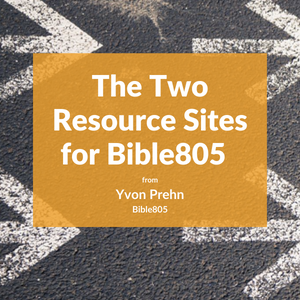 For those of you who have used the resources on the Bible805 website, podcast, and video, I have expanded them for you and want to tell you about them all here.
Following the Video is the text explaining why I created the two sites.
Why I put together the TWO sites
People desperately need to know God's Word today!
Church attendance in many places continues to decline and studies show those who go to church live lives little different than those who don't.
There are endless lists of what's wrong in churches and societies.
In the midst of that I remember Jesus' words when He challenged his audience by telling them that they were in error because they didn't know the Scriptures or the power of God.
God hasn't changed, the church is still the Body of Christ, and Jesus is the one way of salvation, but I think we've lost our conviction of those truths because we don't KNOW God's Word.
And helping you to get to know, trust, and apply it is what Bible805 is all about!
How I can help you do that with Bible805 materials
The consistent feedback I get from churches, and individuals, in person, and online from my teaching is that I'm able to make difficult topics understandable. [Read more…]