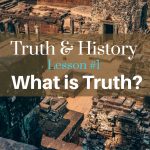 I did this series as a start to the podcast and as a foundation for the Bible 805. In it, we look at how we determine truth in a world where the term no longer has a firm foundation. But truth is essential for us to know how to live today and for our eternal future.
I believe the Christian Bible is a source of truth, but I didn't want you to believe that just because it's my opinion. Based on the results of many years of spiritual study and searching, I'm sharing what I learned. I'm not a professional theologian or historian (though I've had graduate training and studied widely in both areas), but a fellow traveler and pilgrim, a writer and teacher for Jesus who wants to share what I think are some exciting realities about why we can trust the Bible.
I also wanted to give you this background before we start the year's study of reading through the Bible in Chronological order. It isn't essential that you listen to these before we start, but I do recommend it (if not before, at some time) because I think when you see how the Bible is based on objective truth, verified by secular history, you'll be motivated to read the whole book.
Below are the lessons in order, just click on the blue link to go to a post that has the podcast, plus some additional materials. Sadly, I'm not totally organized or consistent on the show notes or extras with each lesson, some are more useful than others and I'm still figuring out exactly what I'm going to be doing in this area. You can also listen to the podcasts on your favorite phone or podcast ap, it's available on iTunes and many others, CLICK here for a link to the various sources.
Truth and History: Lesson One, What is Truth?
https://wp.me/pazrJD-1
Truth and History, Lesson Two: How History Helps Us Determine the Truth of the Bible
https://wp.me/pazrJD-Y
Truth and History, Lesson Three: The Historical Uniqueness of the Christian Bible
https://wp.me/pazrJD-1i
Truth and History, Lesson Four: Old Testament: Overview and Historical Anchors
https://wp.me/pazrJD-1W
Truth and History, Lesson Five: The Apocrypha: Overview and Historical Anchors (or in this case, lack thereof)
https://wp.me/pazrJD-2g
Truth and History, Lesson Six: The New Testament and Historical Anchors, plus the Gnostic Gospels
https://wp.me/pazrJD-2q
Truth and History, Lesson Seven: Canonicity, why we have the books we have in our Bibles
https://wp.me/pazrJD-2W
Truth and History, Lesson Eight: How we got our English Bible, plus comments on modern translations
https://wp.me/pazrJD-39