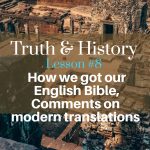 Church Councils formalized the Canon of the 66 books of scripture but the CANON had been determined by God and accepted by the people of God long before Councils.
But just because the canon was decided that didn't mean ordinary people could read it.  The Primary Bible for centuries was Jerome's Latin Vulgate, but most people couldn't read and even if they did, fewer and fewer spoke Latin, the language of the Vulgate. In addition, because they were hand-copied, books very expensive to reproduce and the few that were copied were primarily in monasteries.
But with increased literacy, the printing press, economic growth, some incredibly brave people, and the Reformation everything changed and that's what this podcast is about.
Additional materials, quotes of early plus a chart of the various translations are below: