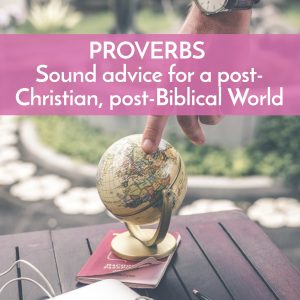 If someone insults you how do you answer?
Does the way people treat us determine how we should treat them?
In our podcast today we'll look at Proverbs and get some advice on how we can respond no matter how difficult people might be in ways that please God and ultimately help us live a more peaceful and productive life.
We laid the philosophical groundwork for this podcast in the last one. Please listen to it first if you haven't already.
In this podcast we get practical on how we can apply Proverbs to our daily lives.
Click on the following link to download the PDF of the Notes: NOTES Proverbs, part 2 Practical advice for a post-Christian, post-Biblical world
The Notes are also below…..
Proverbs, part 2: Practical advice for a post-Christian, post-Biblical world
Teacher, Yvon Prehn
Where we are:
•       In our reading through the Bible, we are in the book of Proverbs
•       We are doing two podcasts on it
•       1-Proverbs: Why it is needed in a post-Christian, post-Biblical world
•       Finished that….now:
•       2-Proverbs: Practical advice for a post-Christian, post-Biblical world
Our process in light of living in a post-Christian, post-Biblical world
•       Malcolm Gladwell in his book Outliers proposed you needed 10,000 of practice (90 minutes over 20 years) to become a master at something.
•       Lots of debate over his conclusions on the amount and time required, but nobody says you become good at something without time and practice
•       If we want to live a life that pleases God in our current world we won't get it from our post-Christian, post-Biblical world
So how do we get it?
•       From the Bible
•       In today's lesson, we will look specifically at some passages from Proverbs
•       First a little background on Proverbs
•       Then….
•       We will look at a situation
•       How the world might respond
•       What Proverbs says should be our response
•       Practical application
Proverbs is the title of the book, it is obviously Proverbs is a collection of proverbs, so, what is a proverb?
•       מָשָׁלHebrew:  mâshâl, maw-shawl' . . . .a pithy maxim, usually of metaphorical nature; hence:
•       A proverb, proverbial saying, aphorism
•       similitude, parable
•       poem
•       sentences of ethical wisdom, ethical maxims
•       IT IS NOT a promise or guarantee—this is where many people run into problems, we'll expand this more in a minute, but the following quote (from the Enduring Word Bible) may help:
•       "Naturally [proverbs] generalize, as a proverb must, and may therefore be charged with making life too tidy to be true. But nobody objects to this in secular sayings, for the very form demands a sweeping statement and looks for a hearer with his wits about him. [We know] that a maxim like 'Many hands make light work' is not the last word on the subject, since 'Too many cooks spoil the broth.'" (Kidner) https://enduringword.com/bible-commentary/proverbs-1/
To EMPHASIZE: what Proverbs are NOT:
•       They aren't promises, guarantees, or magic formulas that if you do certain things precise outcomes will result
•       I've used before the example of "Train up a child in the way he should go; and when he is old, he will not depart from it." Prov. 22:6 in the last podcast.
•       This is a proverb, not a guarantee. Obviously you have a much better chance the child will turn out well if you train them than if you don't.
Situation: someone corrects us, questions how we act, why we did something a certain way
•       Current world view—our response: take offense, immediately defend your self, yell
•       What Proverbs says:
•       Whoever loves discipline loves knowledge,
but whoever hates correction is stupid. Prov. 12:12
•       If you profit from constructive criticism, you will be elected to the wise men's hall of fame. But to reject criticism is to harm yourself and your own best interests. Proverbs 15:32 Living Bible (TLB)
•        People who listen when they are corrected will live, but those who will not admit that they are wrong are in danger (Proverbs 10:17).
•       The ear that hears the rebukes of life will abide among the wise (Proverbs 15:31).
•       Rebuke is more effective for a wise man than a hundred blows on a fool (Proverbs 17:10).
•       Whoever rebukes a person will in the end gain favor rather than one who has a flattering tongue. Proverbs 28:23
APPLICATION
•       Criticism is a gift—we are not all knowing and we need God's Word and people to let us know when we stray
•       We honestly may not know
•       Navigator counsel before summer training: Read Proverbs
•       When we are questioned or criticized, how should we act
•       Don't reject it
•       Don't become immediately defensive
•       By yourself, think about it, pray about it
•       Be thankful someone cared enough
•       Pray for an open heart to learn from God's Word
Situation: how should we approach our work, our calling if able to decide
•       World view: Follow your passion or dreams – if you can imagine it, it will happen, etc.
•        Those who work their land will have abundant food,
but those who chase fantasies have no sense. Prov. 12:11
•       Whoever works his land will have plenty of bread, but he who follows worthless pursuits lacks sense." (Proverbs 12:11, ESV)
•       Lazy men are soon poor; hard workers get rich. Prov. 10:4
Application: So what does "passion" have to do with it?
•       The idea of "passion" as a reason for doing something is so self-absorbed and selfish.
•       It's very nice if you have passion for what you do, but throughout history and much of the world, a "passion" for your work is one of the bonus blessings, not a reason to work or not.
•       Not everyone has an option
•       Work may help your dreams come true and even if it doesn't you need to make a living.
A little secret—that you'll only learn if you want more than any passion to follow the Lord in your work
•       Sometimes if we are truly wanting to serve God, we may need to work at something we didn't choose or don't particularly like doing if we have a choice
•       BUT if we "work our land" as unto the Lord, we may find a satisfactions we hadn't suspected that transcends the work itself
•       My situation
Situation: Someone upsets or insults you, does something to "make you angry"
•       World view: hit back with anger, slander, verbal assaults whenever you feel the slightest insult or misunderstanding
•       Worth noting: not one can "make you angry" it is a learned habit
•       Not to deny something has happened, but Proverbs majors on your response
•       Proverbs says:
•       Whoever derides their neighbor has no sense, but the one who has understanding holds their tongue. Proverbs 11:12
•       The words of the reckless pierce like swords, but the tongue of the wise brings healing. Proverbs 12:18
•       The soothing tongue is a tree of life, but a perverse tongue crushes the spirit. Proverbs 15:4
•       Slowness to anger makes for deep understanding; a quick-tempered person stockpiles stupidity. Prov.14:29, MSG
•       A gentle answer turns away wrath, but a harsh word stirs up anger. Prov. 15:1
•       A wise man restrains his anger and overlooks insults. This is to his credit. Prov.19:11
•       He that is slow to anger is better than the mighty; and he that ruleth his spirit than he that taketh a city. Prov. 16:32 KJV
Application: instead of being destructive
•       The lips of the righteous nourish many,
but fools die for lack of sense. Prov. 10:21
•       Whoever derides their neighbor has no sense,
but the one who has understanding holds their tongue. Pro.11:12
•       Fools show their annoyance at once,
but the prudent overlook an insult. Prov. 12:16
•        The Lord detests lying lips,
but he delights in people who are trustworthy. Prov. 12:22
•            The prudent keep their knowledge to themselves,
but a fool's heart blurts out folly. Prov. 12:23
•       A word fitly spoken is like apples of gold in a setting of silver. Prov. 25:11
Situation: When we or others make mistakes
•       Worldview—either justify or beat ourselves up
•       Proverbs reminds us:
•       Proverbs 24:16-18 English Standard Version (ESV)
•       16 for the righteous falls seven times and rises again,
but the wicked stumble in times of calamity.
•       17 Do not rejoice when your enemy falls,
and let not your heart be glad when he stumbles,
18 lest the Lord see it and be displeased,
and turn away his anger from him.
Application God isn't finished with us yet
•       But the path of the righteous is like the light of dawn,
which shines brighter and brighter until full day. Prov 4:18, ESV
•       Be kind to yourself
•       Forgive yourself as you would others
A good summary verse if someone doesn't follow Proverbs:
•       A person's own folly leads to their ruin,
yet their heart rages against the Lord. Prov. 19:3, NIV
•       People ruin their lives by their own stupidity,
so why does God always get blamed? Prov. 19:3, MSG
•       Don't blame God if you don't follow his directions
In all the situations of life: There are always two voices
•       Jokes about angel and devil, a caricature
•       But there really always are 2 voices—one of self and Satan, one of our Creator
•       Satan—who wanted to be god and wants to tempt us to be our own god….what he says
•       Our Creator—what we were made for, what will make us truly happy, fulfilled
•       It is difficult and challenging in our post-Christian, post-Biblical world where the voices are so sometimes loud, sometimes soft, always constant and contradictory
•       ****Good news is that one day the voice of evil will be silenced forever
•       Until then— we have Proverbs, we have the entire word of God to guide us
At the end
•       We started with a definition of Proverbs and one of them was that they can be a poem. It reminded me of
•       Eph. 3:10, For we are his workmanship, created in Christ Jesus unto good works, which God hath before ordained that we should walk in them (in the Greek the world "workmanship is" "poema")
We are God's Poem, his message to the world. ….we should be the living examples of God's way of living
•       Proverbs gives us a choice
•       Ignore it and you could end as A tawdry tale as Shakespeare said, "told by an idiot full of sound and fury signifying nothing or
•       Or as God's poem reflecting His way of living to your world as Proverbs says, "shining ever brighter until the full light of day."