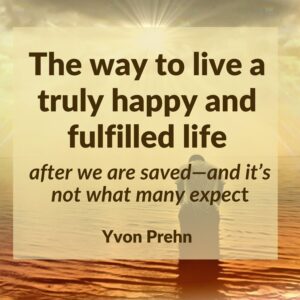 Everyone wants to live a truly happy and fulfilled life, but the question is….
How do we do that?
The Bible has some very specific advice on how to live a fulfilled life and it isn't full of more tips on how to make ourselves #1.
We'll talk about that today in our lesson today.
Below you'll find the podcast, video, and notes.
How to live a truly happy and fulfilled life, what our responsibilities are after we are saved—
and it's not what many expect
Yvon Prehn, teacher
Where we are
•              In the book of Exodus, the children of Israel have been redeemed out of Egypt and are on their way to the Promised Land of Canaan
•              This part of the Bible is often viewed not only as history of what truly happened, but as a picture of the redeemed Christian on their  way to heaven
•              There is often quite of bit of territory to be covered between now and then and the most important thing we need to consider is….
How does God expect us to live on our journey?
•              First, we need to remember.
•              God did extraordinary miracles to redeem the people out of Egypt; Jesus died on the cross to redeem us from our sins
•              Without His work, we'd still be lost, slaves to sin and the miserable results of it.
•              Because of this, our reality is…..
As 1 Cor. 6:23 reminds us
•              We were "bought with a price" and we are to "honor God with our bodies"
•              Rev. 5:9-10 sums up both the process and the ultimate purpose of our redemption when it says (talking about Jesus)
•              "… you were slain, and with your blood you purchased for God persons from every tribe and language and people and nation.
You have made them to be a kingdom and priests to serve our God."
•              In summary, we were purchased by Christ's blood for a glorious future and the Bible tells us how to get there.
In Exodus 19:4-6 is the same idea
•              You yourselves have seen what I did to Egypt, and how I carried you on eagles' wings and brought you to myself. Now if you obey me fully and keep my covenant, then out of all nations you will be my treasured possession. 
•              Obedience to God's commands is the way to real joy and fulfillment.
•              The Bible and all that is in it is the instruction book for how to best function as God's created people.
The rest of the Pentateuch fills in the details
•              Of what the covenant is, how God expects His people to act after they've been redeemed
•              In their experiences we learn how to live also.
•              They (and we) have a lot to learn
•              How to worship the God who redeemed them
•              How to relate to each other
•              How to regulate their personal life
This is a surprise to many
•              That following GOD'S way of doing things is the true way to joy and fulfillment
•              Somehow much of our world, even the Christian world
•              Seems to think that it's all about ME
•              What makes ME happy, what makes me feel good
•              Sadly, it never works
•              The great surprise of the scriptures is that we are most happy, most fulfilled, most everything we want to be when we most closely follow God's will for our lives.
The 10 commandments give us a place to start
•              We won't go over all of them in detail, but I'll go over some basic principles that will help
•              Begin to think of them as guidelines for true fulfillment
•              Next, we'll read an overview of them and then I'll give you one example of one people often interpret inadequately.
In summary, here is the foundation, the 10 Commandments
•                                I am the LORD thy God. Thou shalt have no other gods before me.
•                                Thou shalt not make unto thee any graven image, or any likeness of any thing that is in heaven above, or that is in the earth beneath, or that is in the water under the earth.
•                                Thou shalt not take the name of the LORD thy God in vain; for the LORD will not hold him guiltless that taketh his name in vain.
•                                Remember the sabbath day, to keep it holy.
•                                Honor thy father and thy mother: that thy days may be long upon the land which the LORD thy God giveth thee.
•                                Thou shalt not kill.
•                                Thou shalt not commit adultery.
•                                Thou shalt not steal.
•                                Thou shalt not bear false witness against thy neighbor.
•                                Thou shalt not covet thy neighbor's house, thou shalt not covet thy neighbor's wife, nor his manservant, nor his maidservant, nor his ox, nor his ass, nor any thing that is thy neighbors'.
Let's look more closely at one of the most misunderstood
•              What do you think that is?
•              Jesus expanded the meaning of not killing and of adultery, and we often waffle about if we were really "bearing false witness" or "just kidding" or if we were actually coveting or simply admiring someone else's new whatever we wish we had, beyond these….
•              What do you think is one of the most foundational of commands that is almost always not interpreted completely?
One of the most misunderstood
•              Thou shalt not take the name of the Lord your God in vain
•              What does this really mean and what are the implications?
•              People most often interpret it as we shouldn't use God's name as a swear word or expletive and though we certainly shouldn't do that, I (and other Bible commentators) think its total meaning is far more.
Look at its placement
•              It is the 3rd commandment, following the most serious clarifications that we are to worship the ONE true God and not to make an idol
•              Look at its plain meaning
•              What does to take someone's name mean?
•              If you take the name of your husband when you marry or if you are a child of a family—you bear the family name, certain things are expected of you.
•              If you work for a prestigious company or go to a well-respected school, you bear the name and again there are certain expectations.
When we take God's name
•              It is an awesome responsibility
•              The children of Israel were the people God redeemed from Egypt—they were known by His name.
•              When we take the name of Christian—we are the saying we are the people who belong to Jesus.
•              The very name "Christian" means one who belongs to Christ.
•              God takes our commitment very seriously and he says he will not hold the person guiltless who takes his name in vain
What taking His name in vain means in our behavior
•              Throughout the scriptures, the word "vanity" or vain is used to describe something empty, something useless
•              The book of Ecclesiastes is filled with exhortations to avoid a life of vanity, of emptiness as other translations describe it.
•              It's what Paul describes in Eph. 4:17:
•              This I say therefore, and testify in the Lord, that ye henceforth walk not as other Gentiles walk, in the vanity of their mind,
•              Vanity, is the Greek mataiótēs meaning
–        what is devoid of truth and appropriateness
–        perverseness, depravity
–        frailty, want of vigor
To take His name in vain, then means
•              Instead of living a life of meaning and purpose based on what the Bible teaches and with the joy and satisfaction that comes with it
•              A person chooses a "vain" life, one that is
•              what is devoid of truth and appropriateness
•              perverseness, depravity
•              frailty, want of vigor
•              Let's continue to explore this idea so it will not characterize our lives
Matthew Henry, (1700's, this isn't a new idea) the Bible commentator puts it this way
•              Thou shalt not take the name of the Lord thy God in vain. It is supposed that having taken Jehovah for their God, they would make mention of his name (for thus all people will walk every one in the name of his god); this command gives a needful caution not to mention it in vain, and it is still as needful as ever. We take God's name in vain, [1.] By hypocrisy, making a profession of God's name, but not living up to that profession. Those that name the name of Christ, but do not depart from iniquity, as that name binds them to do, name it in vain; their worship is vain (Matt. 15:7-9), their oblations [offerings] are vain (Isa. 1:11, 13), their religion is vain, Jas. 1:26.
•              Those who consider themselves religious and yet do not keep a tight rein on their tongues deceive themselves, and their religion is worthless [religion is vain, KJV] James 1:26
It's what Jesus talked about when He said
•              You hypocrites! Isaiah was right when he prophesied about you: "'These people honor me with their lips, but their hearts are far from me. They worship me in vain;
their teachings are merely human rules.'" Matthew 15:7-9
•              Just saying the right words or showing up for religious services isn't enough
In summary, we are to live up to the family name
•              The New Testament often refers to this as "walking worthy"
•              We are to live in such a way that it can be said of us as it was with the heroes of the faith in Hebrews 11 where it was said, that because of their behavior, "God was not ashamed to be called their God."
BUT how do we do this?
•              How do we develop this family resemblance? Where we reflect that we belong to God?
•              We won't learn it from the world around us.
•              And the newly freed slaves from Egypt did not know what to do either.
•              So Moses goes up on to Mount Sinai for 40 days for detailed instructions.
•              They needed to learn a new way to live in all of life.
Does that mean we need to follow all the laws that are given?
•              No….though we can learn from all that is recorded as 2 Timothy 3: 16 reminds us that "all scripture is useful for instruction…."
•              Though there is some disagreement within some groups, most Biblical commentators follow The Westminster Confession of Faith (1646) where it divides the Mosaic laws into three categories: moral, civil (or judicial) and ceremonial.
•              It goes on to explain that only the moral laws of the Mosaic Law, which include the Ten Commandments and the commands repeated in the New Testament, directly apply to Christians today.
To explain each category in more detail
•              We don't need to follow the Ceremonial law
•              This includes all the rules and regulation for how they were to worship God.
•              As we talked about in the lesson on Typology, many of these were visual lessons that not only taught them how to worship the God who redeemed them but were pictures of the coming full salvation in Jesus.
•              As such, when Jesus came these laws were fulfilled and no longer necessary.
•              He was the final sacrifice (no more animal sacrifices were needed); when He died the veil separating God and man in the temple was torn in two.
The civil or judicial laws
•              These are a little more complex.
•              When they were given, they were for how Israel was to govern itself as newly freed slaves and in contrast to the pagan nations around them.
•              Many of these form the foundation for much of the world's civil law today, though how they are interpreted and how penalties are carried out has varied greatly between societies, e.g. how theft is punished.
•              But regardless, the clear lesson is that God wants His people to live just and orderly lives respecting the rights of others.
The moral law continues
•              Because it is an expression of God's character and that never changes
•              Jesus summed this up when a lawyer asked Him, "Master, which is the great commandment in the law?
•              Jesus said unto him, thou shalt love the Lord thy God with all thy heart, and with all thy soul, and with all thy mind. This is the first and great commandment. And the second is like unto it, thou shalt love thy neighbor as thyself. On these two commandments hang all the law and the prophets" (Matthew 22:36-40).
The laws in these books
•              Work out the practical ways we are to love God and love our neighbors.
•              Don't just read them to get through them, ask what you can learn from them.
•              I've found reading or listening to them in a modern translation helps—the Message translation is one I've especially enjoyed.
•              I just got a Bible with the NIV, KJV, NLB, and the Message translations side by side. In and of itself it is an excellent commentary on the meaning of some difficult passages.
•              You can also use the parallel passage tool on the Bible Gateway site to compare translations. Here are excerpts of one verse (Exodus 34:12) that illustrate this.
From the Message introduction to Leviticus, a useful explanation
•              Eugene Paterson reminds us, "Because the core of all living is God and God is a holy God, we require much teaching and long training for living in response to God as he is and not as we want him to be. [this book, and the others also in this section are] a narrative pause in the story of our ancestors as they are on their way, saved out of Egypt, to settle in the land of Canaan. It is a kind of extended time-out of instruction, a detailed and meticulous preparation for living "holy" in a culture that doesn't have the faintest idea what "holy" is.
A clarification of what holy is
•              Exodus 19: 6 And ye shall be unto me a kingdom of priests, and an holy nation. These are the words which thou shalt speak unto the children of Israel.
•              From the Hebrew word qāḏaš
Most often defined, to be set apart, consecrated, sacred, used for holy purposes
•              These books define what that means
•              And a side note—yes, set apart can mean different, you may not be or do as everyone else does
The rules and guidelines are reminders
•              Patterson goes on, "that this holy God is actually present with us and virtually every detail of our lives is affected by the presence of this holy God; nothing in our relationships or environment is left out.. . . .
•              Once we realize this the seemingly endless details and instructions of Leviticus become signposts of good news to us: God cares that much about the details of our lives….."
•              With the ultimate goal like Peter will later remind us, that we will become holy (set apart for a good purpose) because our God is holy. (1 Peter 1:16)
A simple summary of it all in
Rom. 12:1-2
•              So here's what I want you to do, God helping you: Take your everyday, ordinary life—your sleeping, eating, going-to-work, and walking-around life—and place it before God as an offering. Embracing what God does for you is the best thing you can do for him. Don't become so well-adjusted to your culture that you fit into it without even thinking. Instead, fix your attention on God. You'll be changed from the inside out. Readily recognize what he wants from you, and quickly respond to it. Unlike the culture around you, always dragging you down to its level of immaturity, God brings the best out of you, develops well-formed maturity in you.
When you do that, taking all your life as an offering to God
•              You won't be taking His name in vain
•              You will be the living representative of the God who loved this world so much He died so we can live free, clean, and good lives of meaning and joy.
•              You will walk worthy
•              You will someone who God will not be ashamed to be called your God.
•              That is how to live a truly happy and fulfilled life.
For more on this topic, please go to www.Bible805.com