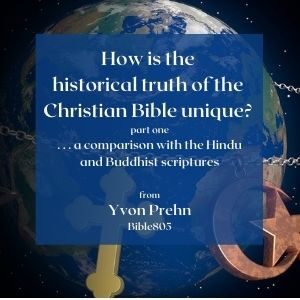 Aren't all religions the same?
Don't they lead to the same place and aren't all their holy books similar?
If you've asked questions like these, I've some fascinating history that helps answer these questions.
In the last two lessons/podcasts we've talked about what is truth and then how historians determine what is true. Please listen to them as background for this and the next lesson/podcast.
In this lesson/podcast we'll apply what we talked about as we evaluate the historical truth of the Hindu and Buddhist scriptures and compare that with the Christian Bible. I'll be giving you the background and overview of each religion, some samples of their scriptures, and then a historical analysis of them.
Below is the podcast and following that, notes on it.
How is the historical truth of the Christian Bible unique? part one
. . . a comparison with the Hindu and Buddhist scriptures
Before we begin, this lesson is part of a 4-part foundational series:
How Truth & History confirm that we can trust the Christian Bible
• The 4 lessons in this series are:
• #1 What is Truth?
. . . and how historical truth relates to religious truth
• #2 How do historians determine Truth?
. . . why geography, archeology, artifacts, and documents matter
• #3 How is the historical truth of the Christian Bible unique? part one
. . . a comparison with the Hindu and Buddhist scriptures
• #4 How is the historical truth of the Christian Bible unique? part two
. . . a comparison with Muslim and Mormon scriptures
Please plan to listen to or watch all for a full understanding of the topic of why we can trust the Christian Bible.
Why it's important to know why the Christian Bible is unique among all other scriptures
• Great push today for "religious tolerance"
• A common thought today is that all religions are the same, that they basically teach the same things and that all roads lead to the same place.
• That is not tolerance—that is homogenizing—blending together belief systems
• And to say they are all the same is not respectful of various religions because they do not teach the same things. To say that means you have never looked at any of them carefully.
• It's sort of like ordering peach pie and your waiter responds, "Here is a coconut cream pie—it's all pie; all pies are the same."
• You wouldn't feel respected if that happened—and peach pie is very different than coconut cream pie, no matter what the waiter's opinion.
"Gentleness & respect" (1 Peter 3:15) is always required but at the same time
• We must respectfully point out that all religions and their scriptures are not the same when we look at them carefully
• It's important to understand the differences when we look at their sacred documents because of the overwhelming importance of the consequences of what they teach.
• Each set of religious texts teach a way to live today, the path to future salvation, and what happens after you die, arguably extremely important topics.
• To evaluate them we are going to look at the history of other scriptures with the same criteria we used to look at the Christian Bible
A brief review of what we've covered
• In a previous lesson, I shared how, because I wanted to know if I could trust the beliefs I was raised with, after lots of research and study, I learned that—
• What is true is what is consistent with reality and
• That history is the way I chose to verify reality, truth, and the historical and evidential foundations of my faith.
• If I am going to trust a belief system with my life now and my eternal destiny, I want to make certain as much as I am able that the documents, the scriptures my belief system is based on correspond to truth.
• Do the places talked about exist? Did the people really live and say what is recorded? Do maps and history outside these texts corroborate that is written? Because…..
Faith might be more than checking off a list of historically correct facts, but it shouldn't be less
• We should be able to verify if the places talked about in a religion's scriptures existed, and trust that we have the words from their religious prophets correctly recorded and that those prophets lived as they said they did—it seems like this is an essential starting point.
• If history can verify the facts of any faith seems essential—
• On the other hand, if a study of history shows that the people, places, and events of a faith are the stuff of fable and legend—well, we want to know that also.
• If the statements made in the scriptures of any religion can be verified in true history, I call them historical anchors.
• After learning about the history of Christianity and the Bible I felt Christianity and the Christian Bible had many verifiable historical anchors (which I'll be sharing in detail on the lessons of various parts of the Bible), but. . . . .
There was one other thing that really bothered me…..
What if all religions also had valid historical anchors?
• I assumed that if people trusted their eternal destiny to other scriptures, that they would have to be historically verified in the same way the Christian Bible is. Or at least in similar ways.
• What would I do then? I hesitated to look at other religions and how they got their scriptures for what I might discover.
• I was a faith coward. But again, I wanted to know the truth…..
• And so, with fear and trembling, I started researching other religions. As I was taught to do as a historian, I read overview books on them and then I read their original documents, their scriptures, (all of which are free through Kindle) which I will share excerpts from.
• The results of this study are what I will be discussing in 2 Parts—the first will look at the Hindu and Buddhist faith and scriptures and then the second part will look at the Muslim and Mormon faith and scriptures.
• This is hard—because I don't want to be mean or disrespectful—but the stakes are far too important (eternal salvation) to not look at these carefully.
First, a quick review definition of truth
• Definition of Truth: "the body of real things, events, and facts; the property of being in accord with fact or reality" Merriam-Webster Dictionary
• Geisler: Falsehood, . . .does not correspond. . . .The intent behind the statement is irrelevant. If it lacks proper correspondence [with reality], it is false."
• We determined that a useful way to decide if documents are true, if they correspond to reality is if they are based on verifiable history.
• For my study of various religions this becomes:
• Are the basic facts of people, dates, locations of the various scriptures based on historical truth or not?
• And if they aren't based on truth, what are they based on?
• Stories, fables, myths, human opinion?
• This is an important question because if the basic facts are not based on truth, how does the religion jump from fable to claims of spiritual truth that give meaning in life and eternal salvation?
Definitions are also important in this discussion because
• For the various religions discussed—many religions use similar terms to those used by Biblical Christians, but they have different meanings
• Salvation in Hinduism=Moksha
• It means "a drop into the ocean"
no more reincarnation "a blowing out, a quenching"
• Salvation in Christianity in contrast means individual, physical resurrection, eternal, conscious, abundant LIFE.
• This is one example—many, many more, but it is important to clearly define terms.
• I'll try to point out important differences in the
meaning of terms as we go along.
Our plan to look at each religion and their scriptures
• What follows is not a comprehensive course on world religions, but I trust each presentation is an accurate and respectful representative of each religion. Here is how we'll do it.
• First, a brief overview of each of these 4 religions— Part One: Hinduism, Buddhism, Part Two: Islam and the Mormon Church.
• Second, how do they define salvation and a life pleasing to God.
• Third, what are their sacred writings, including samples of their scriptures that support their beliefs.
• Fourth, what are the historical anchors in their scriptures that support their claims? We will look briefly at geography, archeology, and source criticism, the document history of their scriptures.
• Last, will then look at how each one views Jesus and the historical basis for that view.
Overview of Hinduism and view of salvation
• Hindus do not all believe in the same god—Hinduism is multifaceted—many of varieties of it, many different gods are worshiped. However, all Hindus believe:
• That our illusory individuated selves (atman) are one with the impersonal cosmic consciousness of the universe—"atman is Brahman and Brahman is atman."
• The Hindu scriptures teach the goal of humanity is liberation from an endless cycle of death and reincarnation (samsara).
• Liberation (moksha) from samsara is attained when we realize that our individual selves are an illusion and all is one.
• "[Salvation if you can call it that] is a dissolving into nothingness—sometimes referred to as nirvana.
• This state is attained through ritual & actions (which vary in accordance with the different ways Hinduism is practiced)—some very ascetic, some indulgent—no one of them is considered the only way.
• Failing to attain moksha [in one lifetime], the law of karma dictates that our deeds in previous lives determine whether we are reborn as man, monkey, or mosquito.
• Adapted from http://www.equip.org/bible_answers/what-do-hindus-believe
The Hindu Scriptures—the basis for their beliefs
• Hindus believe that their scriptures always existed in divine form, and were then written down by various gurus.
www.thblack.com/spirituality/Hinduism/
• Reflecting the multi-faceted character of the religion overall there is tremendous variation in what is accepted as scriptures.
• Within this multitude of scriptures there is wide variation in content, type, teachings.
• Next are examples from some of the most common ones.
Examples of Hindu Scriptures
• The Vedas
• The Vedas contain hymns, incantations, and rituals from ancient India.
• Upanishads: Commentary, applications, many forms. "There is no fixed list of the Upanishads as newer ones are constantly being composed: whenever older Upanishads do not suit the founders of new sects, they compose new ones of their own."
• Bhagavad Gita:
Battle involving Krishna, related stories to illustrate beliefs, teach actions, consequences.
http://www.sacred-texts.com/hin/
Quotations from Hindu Scriptures
• Many scriptures, many ways of practicing Hinduism, following is an example of the importance of self-denial, a key characteristic of many forms of Hinduism to help the seeker achieve nirvana or at least a "good rebirth."
• From the Upanishads, a liturgical reading:
• Laity:
• Today, I enter upon the Uposatha observance during the day. I undertake the set of eight precepts.
• Monk / Nun, followed by Laity:
• I undertake the training rule to abstain from taking life.
• I undertake the training rule to abstain from stealing. . . . .
• Monk / nun:
• By morality they attain good rebirth,
• by morality they achieve wealth,
• by morality they attain nibbana
• Therefore, one should purify morality.
More examples
• From the Bhagavad-gītā (lots of stories)
• Lord Shiva said "O Parvati, kindly hear from me…. [there was a king] of the name Vikrama-Vetala. One day, when he was going to the forest for hunting, he took his son and two hunting dogs along with him. When he reached the forest, he released one dog to chase a rabbit. . . . .
• [The narrative goes on to explain what was actually happening behind this story] . . . . .
• Keshava ….was the most-cruel of men. His wife's name was Vilobbana. She was a very loose lady who always enjoyed the company of other men. For this reason, her husband became very angry and killed her. In her next life she became that dog, and …Keshava, due to his sinful activities, became that rabbit."
• This is also an example of Karma, many stories in their scriptures teach it.
Hindu Scriptures—Historical Evaluation
• Tremendous variation—my examples are reflective of some of the most widely used/accepted.
• They date 6,000BC for oral history to medieval times when put in written form—hundreds/thousands of years between creation and written form.
• But in all of them, there is no archeological or historical verification of manuscripts.
• For the stories of primary characters, such as Krishna, there is no historical basis.
• Thousands and thousands of pages and variations—little agreement.
• No concise grouping of manuscripts accepted by all.
• As to the Historical anchors of Hindu scriptures—
• Conclusion: No historical anchors as the Western mind views them—spiritual explanations of origins.
• Based on legend, myth, tradition—acknowledged as such by followers.
Hindu View of Jesus
• To Hindus, Jesus' proclamation "The Father and I are one" confirmed the Hindu idea that everyone, through rigorous spiritual practice, can realize his own universal "god-consciousness"
http://www.beliefnet.com/Faiths/Hinduism/2002/05/What-Do-Hindus-Believe-About-Jesus.aspx#j66GsJ3PJwbRufZg.99
• They see Jesus as "An incarnation of the Divine, a guru, an avatar (an incarnation of Vishnu) He is a son of God as are others. His death does not atone for sin and he did not rise from the dead."
Christianity, Cults & Religions, Rose Publishing
• Hindus say the teenage Jesus traveled across Southeast Asia, learning yogic traditions and returning home to be a guru to the Jews.
• No proof or historical evidence of any kind for this view of Jesus—a belief only
• These and any other beliefs about Jesus do not agree with any of the known historical teachings he gave or spiritual practices he promoted. They take practices and beliefs important to Hinduism and associate them with Jesus—well-meaning perhaps, but NO historical basis for them.
Buddhism—Overview
• Founder: Siddhartha Gautama, c. 563 BC, though these dates are not agreed by all (Buddha is a title, not his name, means "enlightened one")
• History believes he was most likely a real person, but details of his life are not certain as nothing written about him during his life and up to 300 years later.
• Deification of him is a development in the religion, not claimed during his life by him or by his early followers.
• Disagreement on whether he was divine or not continues today.
• Some believe he was divine and see it as a religion, but to many, it is a philosophy and not a religion. More on that later, but for now, to continue the overview….
In many ways, Buddhism is a reformation of Hinduism, similar theology of basic beliefs
• It came about this way, as a royal prince Gautama was raised as a Hindu but he was unsatisfied, left his position, and went on a spiritual quest. After his enlightenment, he decided to travel and teach what he learned and the result was—
• The "Middle Way"[which he formulated] in reaction to extreme asceticism and extreme indulgence of various forms of Hinduism, though it still holds to its versions of "reincarnation, karma and that a life of devotion and honor is a path to salvation and enlightenment." https://www.history.com/topics/religion/hinduism
The Middle way consists of (and this is a very westernized, summarized version):
• Four Noble truths
1. Life means suffering.
2. The origin of suffering is attachment.
3. The cessation of suffering is attainable.
4. The truth of the path to the cessation of suffering.
• The Four Noble Truths can be attained by—
The Eight-fold Path
The Eight-fold Path
1. Right view
2. Right intention
3. Right speech
4. Right action
5. Right livelihood
6. Right effort
7. Right mindfulness
8. Right concentration
These are learned by embracing the Three Jewels
• The Buddha, the dharma, and the sangha.
• The Buddha, as "a model of mindfulness and self-control," which Buddhism encourages people to strive for.
• The dharma describes how to live properly and righteously and how to view the world from a detached, objective point of view.
• The sangha traditionally is the community of Buddhist monks and nuns, but in a broader sense, the sangha is understood to be the community of fellow Buddhists.
• https://www.butler.edu/cfv/buddhism#:~:text=Nirvana%20is%20the%20term%20used,cycle%20of%20rebirth%20and%20suffering.
View of salvation, their goal of life
• "Nirvana is the term used to describe the end of suffering, the ultimate goal of Buddhism. It is a state of complete bliss, liberation from the limitations and desires of the physical world, and the end of the cycle of rebirth and suffering."
• https://www.butler.edu/cfv/buddhism#:~:text=Nirvana%20is%20the%20term%20used,cycle%20of%20rebirth%20and%20suffering.
• Various forms of Buddhism achieve it using variations of the characteristics above.
Buddhist Scriptures on which their beliefs are based
• Buddhist scriptures consist of the Sutras: the words and teachings of the Buddha. . . . . . The Tripitaka (Pali Canon). . .and the Tibetan Book of the Dead. . . . . .. Different sects of Buddhism follow canonical and noncanonical scriptures to varying degrees.
http://www.findingdulcinea.com/guides/Religion-and-Spirituality/Sacred-Texts.pg_0.html#0
• Quotes from them:
• From the Diamond Sutra—created some time 2nd to 5th centuries, block printed in 868 in China, one of the first printed books (remember the Buddha lived approximately 700-1300 years earlier)
All conditioned phenomena
Are like a dream, an illusion, a bubble, a shadow,
Like dew or a flash of lightning;
Thus, we shall perceive them."
More quotes from Sutras, the Pali Canon, and the Tibetan Book of the dead
• Dhammapada 183:
To avoid all evil, to cultivate good, and to cleanse one's mind —
this is the teaching of the Buddhas.
Greater in battle
than the man who would conquer
a thousand-thousand men,
is he who would conquer
just one – himself.
• From The Tibetan Book of the Dead
"Abandon your notions of the past, without attributing a temporal sequence! Cut off your mental associations regarding the future, without anticipation! Rest in a spacious modality, without clinging to [the thoughts of] the present. Do not meditate at all, since there is nothing upon which to meditate. Instead, revelation will come through undistracted mindfulness — Since there is nothing by which you can be distracted."
• Representative quote:
"Please guide all beings from this swamp of cyclic existence!"
When their scriptures were compiled
• After the death of the Buddha, [tradition records] that his disciples . . . tried to organize his teachings within a system of doctrines on which they could agree. These teachings were then orally passed down to future generations of Buddhist monks within various Buddhist communities in India.
• About four centuries later, in about 80 B.C., Buddhist scribes finally compiled the teachings of the Buddha on paper, which became the Pali Canon. . . . they contain rules for conduct, methods for spiritual attainment, and the ethics taught by the Buddha. . . .
• http://www.equip.org/articles/buddhism-and-christianity-the-buddha-and-what-he-taught/#christian-books-5
Historical Evaluation— some quotes from Buddhist sources
• The earliest available accounts of Buddha's life were collected some three hundred years after his death. . . . "Historians have debated where to draw the line between history and legend, but no one can know what are the facts."
http://www.equip.org/articles/buddhism-and-christianity-the-buddha-and-what-he-taught/#christian-books-5
• "The actual words that the Buddha spoke go unrecorded. They are all related to us from others who came before us."
note citation: https://dharmafolk.wordpress.com/2008/12/30/dharma-is-bs/#more-654
• Conclusions: Admittedly not historical in scriptural verification of the facts of the Buddha's life or words.
• Buddha did not claim to be god, some debate if it is a religion or a philosophy.
• VERY APPEALING—as a result, many Americans are "functional Buddhists" picking various actions, e.g. mindfulness and considering themselves, "spiritual."
• You can believe whatever you want, practice whatever you want, but know there are no historical anchors for the veracity of their documents/scriptures or the life of their founder.
Important to not look at Jesus in the same way as the Buddha or others
• Sometimes people group the leaders of religions altogether, e.g. Krishna, Buddha, Jesus, and others.
• But purely on the basis of objective history, they are VERY DIFFERENT.
• There is NO historical, verifiable record of Krishna or Buddha by any measure similar to the historical verification of the person of Jesus as Nazareth
• You may not think he is God, but historically, he is very different from Krishna and Buddha (and many other legendary faith figures such as the angel Moroni in the Mormon religion) in that many resources, secular and Christian, (see previous lessons on Truth and History) verify that Jesus was a real person who lived in 1st century Palestine, performed miracles, was crucified by the Romans and reported to be alive after his death.
• Simply not an honest historical evaluation.
Buddhist View of Jesus
• Dali Lama a popular representative of the Buddhist faith.
• For the Dalai Lama, Jesus is the model of a "spiritually mature, good, and warm-hearted person." . . . .[sees him as] Jesus as a fully enlightened human being, a bodhisattva."
The Good Heart: A Buddhist Perspective on the Teachings of Jesus
• "Jesus Christ is not part of the historic Buddhist worldview. Buddhists in the West today generally view Jesus as an enlightened teacher, while Buddhists in Asia believe Jesus is an avatar of a Bodhisattva, but not God."
From Christianity, Cults, and Religions, Rose Publishing
• But many don't see Buddha as a god either, so that is not necessarily a bad thing according to their worldview.
• That sounds nice, but……
The historical Jesus interferes
• Jesus claimed to be God and it is patronizing and false to make him into a "enlightened human being" if he said the outrageous things he did about being the only way to God, being able to forgive sins, and claiming to be one with the Father. Not only that, but he told others that what they believed about Him would decide their eternal destiny. When Hindus and Buddhists say nice things about Jesus but stop at that they are not complimenting him but rejecting Him.
• C. S. Lewis' quote appropriate here: [to say that Jesus was merely a good moral teacher] "That is the one thing we must not say. A man who was merely a man and said the sort of things Jesus said would not be a great moral teacher. He would either be a lunatic — on the level with the man who says he is a poached egg — or else he would be the Devil of Hell. You must make your choice. Either this man was, and is, the Son of God: or else a madman or something worse…. You can shut Him up for a fool, you can spit at Him and kill Him as a demon; or you can fall at His feet and call Him Lord and God. But let us not come up with any patronizing nonsense about His being a great human teacher. He has not left that open to us. He did not intend to."
In addition to a false view of Jesus
• From the trip of the Beatles to India in 1968 to the popularity of the Dali Lama and other celebrities' ties to the Hindu and Buddhist religion—
• Plus, the practices of these religions that accommodate contemporary concerns—mindfulness, meditation—this religious tradition is very appealing.
• Many people today have become "functional Buddhists" picking up bits and pieces of these religions.
• But this vague sense of spirituality can have a very dangerous result of becoming people—
• "having a form of godliness but denying its power. . . . . .always learning but never able to come to a knowledge of the truth. . . . . these teachers oppose the truth. They are men of depraved minds, who, as far as the faith is concerned, are rejected."
2 Timothy 3:5-8
• Vague spirituality will not save you—though it can deceive you into thinking you are "connecting with the divine" or some similar spirituality with no basis in objective truth.
The remedy to mindless religious practices
• As the Apostle Paul goes on to share the remedy to mindless spiritual practices are the "Holy Scriptures, which are able to make you wise for salvation through faith in Christ Jesus. All Scripture is God-breathed and is useful for teaching, rebuking, correcting and training in righteousness, so that the servant of God may be thoroughly equipped for every good work." 2 Timothy 3:16-17
• And these Holy Scriptures, our Christian Bible, in contrast to the admitted fables, legends, and stories passed down to make up the Hindu and Buddhist scriptures, our Holy Scriptures are anchored solidly in historical truth that forms a foundation for a faith in a real Savior, Jesus, who we can trust for how to live this life and for our eternal salvation.
• In our next Lesson, we'll look at the Muslim and Mormon Scriptures and how they differ from the Christian Bible.