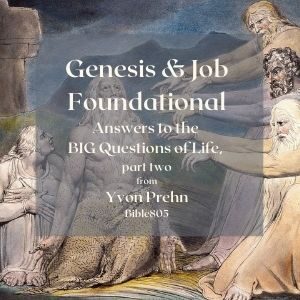 We know the book of Job is about one man's terrible suffering.
Because it's in the Bible, we know it's there for more than simply as an example of great literature—so, what lessons can we learn from it?
In today's lesson, I'll share why the lessons you can learn from the book of Job are an essential foundation for your Christian life, especially on how to handle trials and suffering and to help others going through a difficult time.
Below is the podcast of the lesson and below that the text of it
Genesis & Job-Foundational Answers to the
BIG Questions of Life, part two
Teacher Yvon Prehn, Bible805.com
A review of part one on
Genesis & Job, foundational answers to the BIG Questions of Life
• We established that the book of Job is a true telling of the life of a real individual.
• Job lived at the time of the Patriarchs (most likely a little later than Abraham) in the land of UZ, near Midian where Moses spent 40 years preparing for his work to lead Israel out of Egypt to the Promised Land.
• We also learned that at that time Moses most likely got the material for Job during that time which he later put into final form—the book of Job in our Bibles. Whether the original material for Job was in oral or written form we don't know, but it is most likely the oldest content in our Bibles, not the oldest event, which is obviously Creation, but the oldest recorded material.
• As we began to answer the Big Questions of Life, we learned that God created humanity and all there is, that Satan is a real being who instigated man's rebellion against God and the problems of Job's life, though the extent of those problems was always under the control of God.
• Finally, we learned that Job clearly believed in and affirmed the reality of life after death.
Now we will look at the answers to the additional Big Questions of Life answered in Job
• What about people who have never heard of Jesus?
• What does God want from us? What is our purpose in life?
• Why do innocent people suffer?
• How can we help people who are suffering?
• We find the answers to these questions in Job when it is correctly dated and understood.
• If you learn them well, you'll have a solid foundation in your Christian life that will serve you well when troubles come and they always do.
What about people who haven't heard about Jesus?
• Some important background first on why this question is important.
• We established in the last lesson that the teaching that there is life after death as is clearly affirmed in Job.
• In addition to that lesson, I referred you to the lesson, Life After Death—what does the Bible really teach about it, a related podcast on Bible805 that is now available. This lesson shows how the reality of life after death is a clear teaching throughout all of scriptures.
• In that lesson I also clarified that though eternal existence is a characteristic of all humanity, eternal LIFE—full, joyful, meaningful LIFE in the presence of those we love and our God, is only available to those who have trusted Jesus as their forgiver, Savior, and Lord.
• In addition, Jesus himself said that the only way to this life was through Him.
• Which brings us back to our question, What about those who haven't heard about Jesus?
• If He is the only way to eternal life, the answer to this question is critically important.
How the book of Job helps with an answer
• It is true that no one gets into heaven without acknowledging and trusting Jesus as Savior but as for those who we assume "haven't heard"—
• How do we know what God has revealed to them?
• Our Bible does not tell us the story of all humanity.
• Our Bible is primarily focused on telling us a narrow part of the human story, primarily that of a chosen people, the Jewish people in the land of Israel, whose history leads to the birth of the Messiah, Jesus.
• But there was and is much more going on in the larger world and in the Bible there are glimpses of that bigger reality. As we see in Job….
When you read Job carefully, you'll find…
• Job was not a part of the chosen people; he was not a Jew or part of Abraham's line;
• Yet he offered correct sacrifices and worshipped the true God.
• He was called "blameless" by God; he lived his life to please God.
• Job spoke of God as his Redeemer; he believed in an afterlife; he believed in moral accountability in accord with the standards later revealed explicitly in scripture.
• God personally intervened in his life after his trials and restored him.
• Though Job's friends made some incorrect accusations and conclusions, it is obvious all of them believed in Jehovah God also.
• But neither Job or his friends were Jews, nothing else of their story is told before or after this book.
That isn't our only glimpse of a greater reality
• We see many little pictures in the Bible of God's saving involvement in the lives of those who were not part of the "chosen people." For example:
• Jonah—was sent to preach to the Assyrians in Nineveh, one of the most-cruel pagan nations of the time. We know many in Nineveh, repented in response to one of the shortest sermons ever preached with one of the worst attitudes, where Jonah simply went around the city shouting, "40 days from now and Nineveh will be destroyed" (Jonah 3).
• Rahab—a woman of ill-repute who was part of a nation God said to destroy totally because of their idolatry. Yet she knew about God and His power, risked her life to hide the Jewish spies, and becomes an ancestor of Jesus.
• Naaman, commander of the army of the king of Aram, who were enemies and oppressors of Israel. His household servant, a captured slave, persuaded him to go to Israel for healing, which he did and in the process acknowledged a trust in the true God.
In the New Testament & today
• We have no idea of what happened to the many thousands as the book of Acts says "from every nation under heaven" who heard the story of Jesus at Pentecost and then went home to share that message.
• We read the story of the Ethiopian eunuch, who the Apostle Phillip found reading the book of Isaiah and whose heart was open to the gospel and who responded by being baptized and then returned to Ethiopia.
• Today we hear many stories of Jesus appearing in dreams to Muslims whose faith prepares them for visions and stories from missionaries, who go to isolated people who somehow know the story of Jesus.
• I imagine there are many more stories that we won't hear until we rejoice over them in heaven, but Job gives a glimpse and assurance that God is involved in much we cannot see.Now let's look at what Job says about our remaining Big Questions of life
• Because they all tie together, we will answer the next questions as a group, to review they are:
• What does God want from us?
• What is our purpose in life?
• Why do innocent people suffer?
• How can we help people who are suffering?
What does God want from us? What is our purpose in life?
• God said Job was blameless. Looking at his life then tells us what God wants from us, what our purpose in living should be.
• See chapters 23, 29, 31, for specifics on what he did but in summary, Job did these things:
• Treasured God's words, helped the poor, counseled others, wept for those in need, sexually pure, just to the least, did not trust in money, did not rejoice over enemy's misfortune, did not conceal his sin.
• In summary he put into practice Micah 6:8 in that he did justly, loved mercy, walked humbly with his God.
• God's requirements don't change—personal godliness and caring for the less fortunate are always important. But then the question comes up….
If Job did what God wanted
• Why didn't God continue to bless him? According to Job's friends obviously Job quit obeying God and so he was punished, right?
• We know that isn't right, that Satan was involved, but how does that help us understand the book and the recorded arguments from Job's friends, why are they in the Bible? What are we supposed to learn from them?
• To understand this, you need to understand the place of genre in interpreting a book like Job –bear with me, this will take a little time to explain, but it is very important.
• Dictionary definition of genre: Genre is a category of artistic composition, as in music or literature, characterized by similarities in form, style, or subject matter
• We approach, read, and interpret a piece of writing dependent upon what genre we assume it to be.
• For instance, we read a history textbook very differently than a novel because they are different genres. If you don't know the genre of a piece of writing, you may read and interpret it incorrectly. A novel is not based on truth in the way we assume a historical textbook is.
• A widely known error in not distinguishing genres was with Dan Brown's Da Vinci Code. It was a novel, a fictional piece, which the author and all critics stated, yet there was no end of grief in Christian circles by people who read it as a historical text. At its foundation that was a genre error.
How Genre understanding applies to reading and studying the Bible
• The book How to Read the Bible for All Its Worth by Fee and Stuart applies genre study to the Bible and is highly recommended. I will use it as we continue through all our study of the Bible because it is vitally important to understand what genre you are reading to interpret and apply the books of the Bible correctly. Occasional letters are a different genre than historical narratives and apocalyptic literature is a different genre than the gospel biographies. Each has their own guidelines for proper understanding and application. I will be doing separate lessons on these as we go through the Bible.
• Fee and Stuart point out that Job is part of "Wisdom Literature" genre. And the key characteristic of wisdom literature is that….
• In Wisdom Literature you must read all the book, the entire book, beginning to end, carefully to understand the argument and then the all-important conclusion at the end of the book.
• Here is God's conclusion at the end of the book of Job in Job 42:7 "After the LORD had said these things to Job, he said to Eliphaz the Temanite, 'I am angry with you and your two friends, because you have not spoken the truth about me, as my servant Job has.'"
• You must keep this in mind when you read the statements and arguments of Job's friends. Their statements sound so good, so sensible.
• But God's summary of their arguments is that that they were not true.
• Here is an example of what sounds good but is very wrong….
A typical statement from Job's friends
• 21 "Submit to God and be at peace with him;
in this way prosperity will come to you.
22 Accept instruction from his mouth
and lay up his words in your heart.
23 If you return to the Almighty, you will be restored:
If you remove wickedness far from your tent
. . . . . 27 You will pray to him, and he will hear you,
and you will fulfill your vows.
28 What you decide on will be done,
and light will shine on your ways. Job 22:21-30 New International Version (NIV)
• You may want to nod in agreement, until you remember that God said their words were NOT TRUE.
• What is wrong with them? Shouldn't we submit to God, be at peace with Him, return to Him? Yes, of course we should—that isn't the problem.
• The problem is that by doing what we are supposed to do, humans do not obligate God to respond in the way a human thinks God should when they think God should do it.
This view of suffering and reward is an incorrect transactional view of humanity's relationship to God
• Let's examine it carefully, because without thinking, this is how many people believe God acts today and it is wrong and ultimately disappointing.
• Job's friends believed Job sinned and he deserved to be punished. If he quit sinning everything would work out well.
• They believed evil is punished and good is rewarded by prosperity—
on a continuous basis in this life.
• "Submit to God and be at peace with him; in this way prosperity will come to you. Accept instruction from his mouth and lay up his words in your heart. If you return to the Almighty, you will be restored" Job 22: 21-23
• God did not validate this belief then and he doesn't today—this is prosperity gospel preaching—you do this, God will do that—NO!
• We do not obligate God to do anything for us because we obey Him. He is our Creator and God, and we owe him our obedience, regardless of what He does for us. But this is not a popular view then or now.
Job also fell victim to the same error
• Job correctly disagreed with their conclusions that he had sinned and deserved this punishment, and he pointed out how often evil people prospered, and their formula did not work in real life.
• But then Job's thinking took a wrong turn when Job thought God had made a mistake.
• Job argued that if God realized how righteous he was things would change. In many ways he had the same transactional view of how God relates to us as his friends did, but he thought the fault was with God.
• God did not make a mistake in allowing Job to suffer. He allowed it. At the same time, He set limits to it.
• After allowing Job's friends and Job himself a lengthy exposition of their human explanation for suffering, God speaks.
• Job demanded an audience with God, but when he got it, it did not go as he expected.
Instead of validating their transactional view of God and that God owed Job an answer
• God spoke and said:
• Where were you when I laid the foundations of the earth? Tell me, if you know so much. Do you know how its dimensions were determined, and who did the surveying? What supports its foundations, and who laid its cornerstone as the morning stars sang together and all the angels shouted for joy? (Job 38:4-7)
• And God continues with reminding Job of all creation, the stars, the animals, the many things Job cannot understand or control and how God is in charge of all of them.
Job wisely responds
Job 42:1 Then Job replied to the LORD: 2 "I know that you can do all things;
no purpose of yours can be thwarted.
3 You asked, 'Who is this that obscures my plans without knowledge?'
Surely, I spoke of things I did not understand, things too wonderful for me to know.
• . . . . .
5 My ears had heard of you
but now my eyes have seen you.
6 Therefore I despise myself
and repent in dust and ashes."
• In his recorded conversation with Job at the end of the book, Job never had got an answer to why he suffered. We do not know if he was ever told about the conversations in heaven that led to his suffering or if that was added later by Moses as a result of divine revelation for later readers.
• We know Job simply saw God and His power and control of all things and that was enough.
Some application thoughts from Job
• We are not guaranteed simple answers to the trials and troubles of this life.
• Most certainly the answer as to why things happen is NOT a baptized version of karma, not a transactional view of God, where we do certain things and God will respond in a certain way. God is not a genie under our control.
• We do know there is much more going on than we are aware of.
• Spiritual warfare is a reality. Ephesians 6 tells us our struggle is not against flesh and blood, but against the rulers, against the authorities, against the powers of this dark world and against the spiritual forces of evil in the heavenly realms.
• Somehow, we are part of it; somehow the troubles of this world are part of it and as part of it we know that in our trials….
• We are being watched by God and angels and demons.
• What we do in our lives and trials matters, perhaps far more than we can imagine.
• God is in control of the limits, timing, and extent of our trials.
So how should we respond?
• The reality of spiritual warfare is not an excuse to sloppy living or a lack of responsibility. In the case of Job and throughout all of scripture, God judges right and wrong responses to trials.
• To respond correctly when troubles come, first ask for wisdom to discern as much as possible what is going on remembering in James 1:5 that God promises to give us wisdom when we ask.
• First ask is there a sin that needs to be corrected? Consider Hebrews 12: 7-12 and Ps. 119:67—remembering God's correction is always out of love.
• Endure hardship as discipline; God is treating you as his children. For what children are not disciplined by their father?. . . . . They disciplined us for a little while as they thought best; but God disciplines us for our good, in order that we may share in his holiness. No discipline seems pleasant at the time, but painful. Later on, however, it produces a harvest of righteousness and peace for those who have been trained by it.
• Before I was afflicted, I went astray,
but now I obey your word. Ps. 119:67
• If we discern a sin, something that needs to be corrected, confess it, accept God's forgiveness, and make plans to move on.
There are many other reasons that God sends us challenges in life
• The more you grow in your Christian life, sometimes the harder life gets.
• I think the Lord expects more of us the longer we walk with him, as we expect more from an adult in terms of good behavior than we do of a toddler and for us to grow spiritually, we need challenges, trials, pruning in our lives.
• C.S. Lewis put it this way:
• "Imagine yourself as a living house. God comes in to rebuild that house. At first, perhaps, you can understand what He is doing. He is getting the drains right and stopping the leaks in the roof and so on; you knew that those jobs needed doing and so you are not surprised. But presently He starts knocking the house about in a way that hurts abominably and does not seem to make any sense. What on earth is He up to? The explanation is that He is building quite a different house from the one you thought of – throwing out a new wing here, putting on an extra floor there, running up towers, making courtyards. You thought you were being made into a decent little cottage: but He is building a palace. He intends to come and live in it Himself."― C.S. Lewis, Mere Christianity
• As painful as things might be a truth every parent or teacher knows is that without training and discipline a child is a terror and disappointment to everyone they encounter.
• God wants us to be children He can be proud of before others and before the hosts of heaven. Some of us need a little more discipline, a little more corrective training than others to become that.
• Or reminding ourselves of Job again, someone might be a very good child and for reasons that person might never know outside of heaven they are given great trials to show the hosts of heaven that they will trust God even when life is very hard.
Remember God works "the long game"
• God did not create us solely for this tiny time of earthly life. His plans for us are much larger and longer.
• We see hints of it in places like Eph. 2:6,7 where it talks about how he, "raised us up with him, and made us to sit with him in the heavenly places, in Christ Jesus: that in the ages to come he might show the exceeding riches of his grace in kindness toward us in Christ Jesus."
• Also, in the passages such as the parable of the talents where the reward for a wise use of talents is a greater responsibility at a future time and the many teachings of future rewards tied to how we responded to various situations in this life, it seems clear God is not disciplining, pruning, training us for this life only.
• The believers in Hebrews 11— "did not receive the things promised, they only saw them from a distance and they admitted they were aliens and strangers on earth." Their story is summed up with a challenge to us in Hebrews 12:1,2 Therefore. . . since we are surrounded by so great a cloud of witnesses, let us lay aside every weight, and the sin which so easily ensnares us, and let us run with endurance the race that is set before us, looking unto Jesus, the author and finisher of our faith, who for the joy that was set before Him endured the cross, despising the shame, and has sat down at the right hand of the throne of God.
• For the joy set before us—endure—whatever trial you are in.
How to help others, what we learn from Job
• Share what I previously talked about. One of the best things you can give a suffering friend is the truth that the Christian life is not a transactional exercise of be good and get goodies; be bad and get smacked.
• Share instead an eternal perspective that God is in control and will work out all things one day. That may not always help in the moment, but it is a core truth.
• Don't be a miserable counselor or one who condemns or judges –WE NEVER KNOW why or what God is doing.
• The person suffering may be greatly honored by God or even if they are going through a time of discipline, let God do it, don't pile on, don't shoot the wounded.
• Follow Job's advice here. "To the one in despair, kindness should come from his friend even if he forsakes the fear of the Almighty. My brothers have been as treacherous as a seasonal stream. "Job 6:14,15, NET
• Also don't give false hope—don't quote verses out of context.
Because God is in control, does not mean it will get better in this life
• Remind yourself and others—though ultimate healing and blessing are guaranteed—timing is not.
• We will be healed and blessed, maybe on this earth, maybe not.
• It did get better for Job and for Joseph.
• It didn't get better for Jeremiah or the Apostle Paul or for the unnamed heroes of the faith in Hebrews 11.
• Or for Jesus.
• It didn't get better for Moses from an earthly viewpoint. After 40 years of exile, after answering God's call to lead Israel out of Egypt he spent 40 years babysitting a quarreling, unthankful, constantly complaining group of people, and then he does not get to go into the Promised Land because he loses his temper.
• "The real difficulty is. . . To adapt one's steady beliefs about tribulation to this particular tribulation; for the particular, when it arrives, always seems so peculiarly intolerable."
C.S. Lewis
• Acknowledge that trials may be intolerable now—but they won't last forever.
Advice on what to do in the midst of trials
• Do not wait "until" anything (for the pain to go away, for things to get better, more money, health, whatever) before you:
• Express THANKS—not "for" but "in" all circumstances—make it a discipline
• Affirm you serve a good God
• Live for God as best you can no matter the circumstances
• Study the Bible—read it all in chronological order to know what it truly teaches
• Give up a sin, if need be
• Give sacrificially—don't wait until you are comfortable to give— "til it pinches" is C.S. Lewis advice
• Start living a holy life, holy means "set apart" review what needs changing, often things need pruning, do this not to obligate God to bless you but because He is worthy
• Share your faith—trials give opportunities and people will ask
• Don't give up when hard times come
• Don't confirm Satan's accusation that you only serve God when things are going well—what does that prove?
In closing, let's review what we learned from Job in answering the Big Questions of Life
• How did we get here? God created us and all there is
• What messed things up? Humanity in turning away from God; believing Satan rather than God.
• Who is Satan and what power does he have? A created being under God's control, but for now causing pain and suffering, constantly accusing believers.
• Is there life after death? YES! It is clearly taught from Job and Genesis to Revelation. Please see lesson "Life After Death" for more.
• What about people who have never heard of Jesus? We don't know what they have heard, but we do know God is at work in many ways we know nothing about.
• Why do innocent people suffer? Many reasons we don't understand, but we know all suffering is under God's control and no suffering will last forever.
• How can we help people who are suffering? Be kind, be honest, encourage them to develop an eternal view.
• What does God want from us? What is our purpose in life? "To do justly, love kindness, walk humbly with our God" demonstrated by Job, summarized in Micah 6:8 and he will show us the specifics in our lives if we follow Him no matter how challenging life might be.
Concluding thoughts, underscoring key teachings.
• It is incredibly important for us, as it was for Moses to understand these truths as we go through the Bible and life. I think he needed Job's story before he could serve for 40+ years in the situation he did.
• GOD does not interact with us on a transactional basis of if we do this, he is guaranteed to that when we want Him to.
• God will do as He chooses even if it involves temporary suffering.
• Spiritual warfare is a reality that is pervasive, unrelenting, and somehow involves us, though God is always in control.
• God's will for us and what happens to us goes beyond this life.
• And His will and plans for us are good.
• We may not get a personal vision of God as Job did, but we see Him in his Word –
And in His Word, He promises
• In all things God works for the good of those who love him, who have been called according to his purpose. Romans 8:28
• He will wipe every tear from their eyes. There will be no more death or mourning or crying or pain, for the old order of things has passed away. Revelation 21:4
• Surely goodness and mercy will follow me all the days of my life, and I will dwell in the house of the Lord forever. Ps.23:6
• Keep in mind the lessons of Job, the long view of the trials of life, and that the end of it all, we will dwell in the house of the Lord forever.