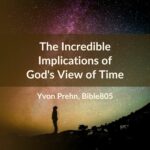 Though it sounds complex, the topic of this lesson has important and practical implications for how you live day-to-day.
Let me explain—as this lesson shows, God's view of time, seeing and knowing all that is past, present, and future is what enables us to understand prophecy and trust that what He promised in the past He will fulfill in the future just as He made promises in the past in the Old Testament that He fulfilled in the New Testament.
Though that is comforting, it also brings up the question of if God determined the major events of Biblical history, does He predetermine my every action? If that's so, am a responsible for them, or just a puppet?
This lesson answers those questions–so listen or watch to find out the answers!
Below is the podcast, video, notes, and a link to the chart, and a short video explaining God's view of time talked about in this lesson. [Read more…]