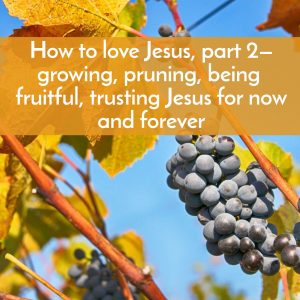 When you think of the time Jesus had with his disciples just before his trial and crucifixion, what is it you think about?
To answer my question, I know I think about the Last Supper—that's what has been memorialized in great art throughout the centuries and in the services before Easter and that's often our focus on Maundy Thursday or Good Friday services.
This podcast will be heavy on application because in our previous special Easter lesson we learned that the primary way to love Jesus is to OBEY HIS COMMANDS. It isn't just knowing about them that pleases him but obeying them
.
In this podcast, I'll talk about ways to love Jesus by trusting him to prune our lives to make us more fruitful in both our personal lives and in how we impact the world for him. Below the podcast are images I talked about in the podcast: a picture of how I have verses by my computer and two of my favorite inspirational sayings. If you click on the first one, you can then see larger copies of all, and below that a copy of the notes for the podcast.
PDF of NOTES  NOTES for How to Love Jesus, Part Two, growing, pruning, being fruitful, trusting Jesus for now and forever