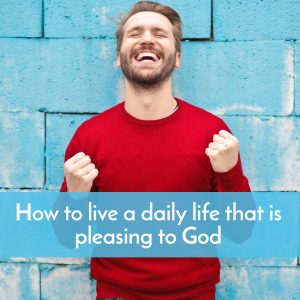 How are we supposed to live our daily lives if our faith in Jesus is real?
If God saves us as a free gift of grace, dependent on Jesus death on the cross, does he really care what we do after we accept him? Can we do whatever we want, knowing we'll be forgiven?
On a more serious note, what if, after we have trusted Jesus as Savior, we truly want to live a life that pleases Him—how do we do that?
To answer the questions, I just asked is vitally important for every Christian if we believe, as the Bible clearly teaches, that one day each of us will stand before Jesus to give an account of our lives. Though we are saved from eternal death by the grace of Jesus, he does have expectations of how we should live after we accept the gift of salvation and that's what this podcast is about.
I'm doing this special edition because what I have recently learned I found so helpful in my Christian life that I wanted to share it.
Below the podcast is a PDF of the notes and below that the notes themselves.
To download a PDF of the notes, click the following link:  PODCAST NOTES Romans 6 15-23 SPECIAL EDITION