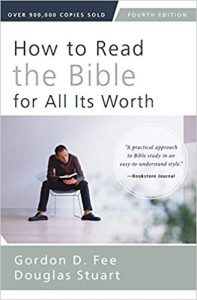 Even more tragic than not reading the Bible at all is to read it incorrectly and to think it says something it doesn't say. Another tragic mistake is to think the Bible promises something that it doesn't and then to get angry with God because He didn't do what you thought He should do because you didn't understand what the Bible passage was truly about.
To keep readers from making these mistakes and many others as they read their Bible and to help you understand and apply the Bible properly, I highly recommend How to Read the Bible for All Its Worth by Douglas Stuart and Gordon Fee. First published in 1981, it was revised and updated in 2014. I consider it an invaluable guide to understanding the Bible and use it as a key reference in my preparation of the Bible805 podcasts.
Genre makes all the difference
The approach taken in the book is genre-based and here is how the authors describe what this means:
. . .the basic concern of this book is with the understanding of the different types of literature (the genres) that make up the Bible. Although we do speak to other issues, this generic approach has controlled all that has been done. We affirm that there is a real difference between a psalm, on the one hand, and an epistle on the other. Our concern is to help the reader to read and study the Psalms as poems, and the Epistles as letters. We hope to show that these differences are vital and should affect both the way one reads them and how one is to understand their message for today.
Here is the Table of Contents that shows how they divide and discuss the various genres:Continue Reading