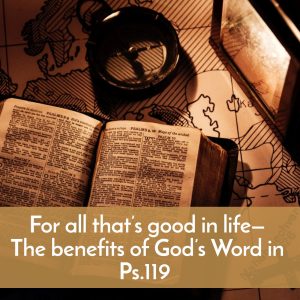 We've studied the life of David for the past two lessons and we'll end the study of his life with a look at Ps. 119. Though there is some debate of the writer of this Psalm, the consensus is that David wrote it as a summary of his love for God's Word and the benefits that will be in our life if we read, listen, meditate on, memorize, and fill our life with it.
This week we'll look at an overview of the many benefits God gives us from his Word including wisdom in making decisions, freedom, happiness, guidance, hope, and comfort.  Plus one of the most wonderful of all– peace in our lives, the deep, wholeness of peace that the word "Shalom" describes.
In addition to the benefits we learn in Ps. 119, we'll make the study practical as you'll learn FIVE ways to get a grip on God's Word in your life so that the benefits of God's Word will be yours daily.
Following is a PDF of the notes for the podcast:  NOTES For all that's good in life—The benefits of God's Word in Ps 119
Following is a PDF of the Hand Illustration: How to Get a Grip on God's Word in Your Life: The Hand Illustration