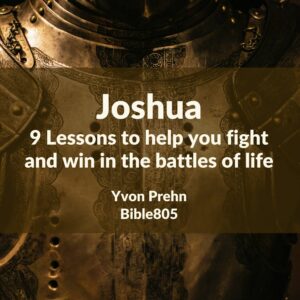 How is life going for you now?
Are you struggling, under pressure, afraid? Feel like you fight one battle after another?
In today's lesson, I've got some encouragement for you as we look at…..
Book of Joshua 9 Lessons on how to fight and win in the battles of life
As we start, the first step to winning the battles of life
Realize you are in a battle!
The Bible describes the Christian life in this way:
This is no afternoon athletic contest that we'll walk away from and forget about in a couple of hours. This is for keeps, a life-or-death fight to the finish against the Devil and all his angels. Eph. 6:12(MSG)
Take your share of suffering as a good soldier of Jesus Christ, just as I do; and as Christ's soldier, do not let yourself become tied up in worldly affairs, for then you cannot satisfy the one who has enlisted you in his army. 2 Timothy 2:3-7 Living Bible (TLB)
This view is very different than many contemporary ideas of the Christian life today that tell people to not only expect heaven after they die, but heaven on earth. The reality of the  Christian life and what we see in the book of Joshua is very different.
Below is the podcast and video of the lesson, and the notes are below them.