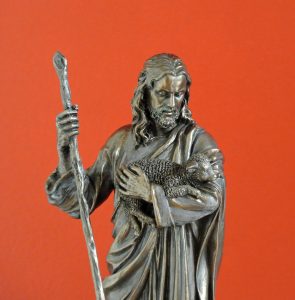 In our podcast on How to Love Jesus, we look at his response to the final hours of his earthly life. Even though betrayal by friends, a brutal beating, and a horrible death awaited him, his focus was not on himself. He begins his final hour with his disciples by washing their feet and he will end it by praying for them. In between, he comforts them, promises them the help of the Holy Spirit, and reminds them he is preparing an eternal home for them. He commands them to love each other and reminds them that loving him is expressed in keeping his commands. He reviews, reminds, encourages this group of disciples and friends even though he knows they will soon all run from him in fear for their lives.
We are not facing what Jesus and the disciples did, but we have our own disasters
In addition to the interpersonal challenges of life, many would say that the potential for global disasters—war, climate catastrophe, pandemics, civil unrest is growing. How will we respond?
For the larger, news-worthy disasters, there is one group that not only knows how they will respond but is planning to profit massively in the process. How they do that—not how will they do it, but how they do it now because their services are already in great demand, was detailed in an article in the New York Times, "Climate Chaos is Coming and the Pinkertons are Ready".
Read the article if you don't get easily frightened and I won't detail it here, but in brief, Pinkerton is the legendary group who provided what amounted to a private army for those wealthy enough to pay for it in the frontier days, through early labor strikes, to recently providing protection and escape for corporate clients from natural disasters such as the recent hurricane in Puerto Rico.
Pinkerton believes chaos in our present world will only increase and they are training and planning to profit from it. They believe and know from experience that very wealthy corporate clients do and will pay handsomely for their services.
I read the article with a mixture of horror and fascination. Here was a company intentionally writing scripts for scenes out of science fiction where the world falls apart and only the super wealthy with their private armies are saved from the chaos. As I was thinking about that, I remembered the verse:
"But what will it profit a man, if he gains the whole world and loses his soul? (Mark 8:36)"Continue Reading