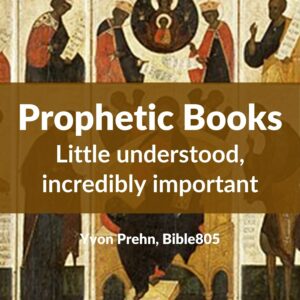 We are at the place in reading through the Bible where many people either quit or are confused and make incorrect applications from their reading.
We've finished the books that are primarily historical narratives and are now in books that combine both historical narrative AND the messages of the prophets to the people at that time. Understanding what is going on in the history of the people and how that relates to the book of prophecy is very important. Without it, the books of prophecy either make little sense or people come up with wildly incorrect conclusions about them.
A modern-day analogy would be to imagine 2500 years from now (that is how long ago most of them wrote) if you heard Martin Luther King's "I have a dream" speech. If you were not familiar with the Civil Rights Movement, what was going on in the U.S. at that time, how extraordinary it was for the speech to even take place, and why he wove together Bible passages with his visions (and imagine you didn't even know some of them came from the Christian Bible), well, obviously the speech wouldn't make sense to you. Knowing the historical context of a speech makes all the difference in our ability to understand it.
My goal in this next series of lessons (plus your reading and a Timeline of the Prophets I put together for you) will help you understand not only the meaning and importance of what the Prophets said in their day but also how we can apply their words to our lives to live in ways that are pleasing to our Lord.
Below are links to the podcast, video, notes, and links to the charts shown in the video.
CLICK on the images below to download PDFs of the charts: