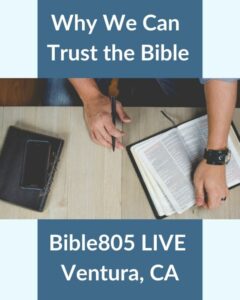 It is with great joy and excitement, I'm announcing LIVE teaching classes from Bible805 (basically me, Yvon) at my home church! For many years I've taught Bible classes, but needless to say live teaching was greatly cut back during the pandemic.
Many of you continued to listen to Bible805 teachings through the podcast and videos and I've loved producing them, but teaching in person is the best of all.
If you are in the area, please join us. Though the lessons are part of a series, they are also all self-contained, so you can drop in at any time.
Below is a little more information about it.
Bible805 Live Class: Why We Can Trust the Bible
One of the defining statements of our church (Encounter Church at 6950 Ralston St., Ventura, CA, 93003) is that "everything focuses on getting to know Jesus better through His Word, the Bible."
But many who are exploring the Christian faith, are new in it, or even those who have been a Christian for years, may have times where they wonder, "But how can I trust the Bible?"
"How can I know it's a true account of Jesus and all the other teachings I'm supposed to obey?"
"Weren't the manuscripts it is based on copied so many times we don't know what they originally said?"
"Don't all religions have 'scriptures' and why is the Christian one better than any other?"
"Why should I entrust my earthly life and eternal destiny to what this book teaches?"
These and many related questions are important to answer and we'll tackle all of them in our upcoming Sunday morning class. Here are the basics of the live class and if you can't attend, links to the lessons each week will be here on a Bible805.
Overall information about the class:
Title: Why we can trust the Bible
Truth, history, how we got it, why it's different than other religious scriptures, and questions answered about it
When: Sunday morning, starting May 15
Time: 10:45-12:00
Where: Room 302 (building to the right as you enter the parking lot from Johnson Drive)
Who are the teachers: taught by Yvon & Paul Prehn, for questions—email yvonprehn@gmail.com.
Who it is for:  the class is for anyone who wants to know the historical, factual foundations of the Bible and their Christian faith. Bring your doubts and questions—we promise well-researched, intellectually valid, and ultimately soul-satisfying answers.
 Here are the series of Topics we will cover and the dates for them
Curriculum for Why We Can Trust the Bible
If you've ever been afraid of the "gotcha" questions people ask about the Bible and that you have most-likely asked yourself, by the end of this series of classes, you'll have answers and the assurance that you can trust what the Bible says for your eternal salvation and for guidance for daily life.
We will have PowerPoint presentations, extensive notes, and a time for questions to help you thoroughly understand these topics.
Here are the topics that will be covered:
May 15, 2022 #1 What is Truth?
. . . and how historical truth relates to religious truth
Fake news, conflicting viewpoints, frightening world events, how do we know what to believe?
On one level if the confusion over truth were just confined to the political realm or whatever tragedy consumes the news, one option would be to block the media noise and hope things will get better.
But we can't do that in all of life.
Because in spiritual realities, truth matters!
This lesson talks about what Truth is not, what it is, and how history can help us determine what is true.
May 22, 2022 #2 How do historians determine Truth?
. . . why geography, archeology, artifacts, and documents matter
How do historians know what is true?
Do they write up whatever sounds good to them?
Or do they listen to legends or whatever do they do?
In a previous lesson, we talked about the importance of truth and how truth is that which corresponds to reality.
We then talked about how history is a useful way to determine what corresponds to reality and how this is foundational to determining if a religion is true. But how do historians go about figuring out what corresponds to reality? Obviously, we don't have time machines. We can't go back to the events themselves.
They do it through evidence and in this lesson we'll talk about the evidence of geography, archeology, artifacts, and documents.
Important note: the way we evaluate religious documents is no different than how any secular document is evaluated. As a personal note, I (Yvon Prehn) learned how to do this while studying for my MA in History at a secular university. Though I started my study with fear and trepidation that it might destroy my faith, I learned that the Christian faith has an incredibly solid and trustworthy, historical foundation. I'm excited to share this with you.
May 29, 2022 #3 How is the historical truth of the Christian Bible unique? part one
. . . a comparison with the Hindu and Buddhist scriptures
Aren't all religions the same?
Don't they lead to the same place and aren't all their holy books similar?
If you've asked questions like these, I've some fascinating history that helps answer these questions.
In the last two lessons we've talked about what is truth and then how historians determine what is true.
In this lesson we'll apply what we've talked about so far in this series as we evaluate the historical truth of the Hindu and Buddhist scriptures and compare them with the Christian Bible. I'll be giving you the background and overview of each religion, some samples of their scriptures, and then a historical analysis of them.
May 29, 2022 #4 How is the historical truth of the Christian Bible unique? part two
. . . a comparison with Muslim and Mormon scriptures How do the Koran and the Book of Mormon compare to the Christian Bible?
They are much more recent than Hindu or Buddhist scriptures,  and we have good evidence of their documentary integrity, so aren't they more trustworthy?
According to the writings of each religion, not only are they more trustworthy, but both religions claim that they are the most correct scriptures. However, the Christian Bible also claims absolute truth. By the law of noncontradiction, they can't all be true, because they greatly disagree on essential beliefs such as who is Jesus.
So, how do we evaluate them to determine whether the trustworthiness of each? Based on all we have studied so far, this isn't hard to do and after the class you'll be much more confident to discuss with "gentleness and respect" what is said about these religious books and why the Christian Bible is the truly most trustworthy scripture.
June 5, 2022 #5 The Bible—Human Story or Divine Revelation? part 1—God's view of time and prophecy
People say God wrote the Bible—but did He?
What does God's view of time have to do with whether He wrote the Bible or not?
When you understand God's view of time and how it relates to the Bible, you'll understand the power and purpose of prophecy and why we can trust God to fulfill his promises in the future as He did in the past.
In this lesson, we are going to answer these questions, which are foundational to any study of the Bible & discover some very fascinating things about God and Time that prove only God could be the Author of the entire book.
June 12, 2022  #6 The Bible—Human Story or Divine Revelation? part 2 —with thoughts on Progressive Revelation
Is the Bible one story?
Or a collection of related, but sometimes contradictory stories?
Does it matter which one it is?
Today we are going to answer those questions in our lesson today by explaining what's called "progressive revelation," a big term with a simple meaning that's incredibly important for you to understand in determining if God is the ultimate Author of the Bible.
In addition, understanding progressive revelation and what it truly means will help you understand the process God used to reveal the great truths of the Bible. For example, you'll see how the sacrifices of innocent lambs in the Old Testament prepared the way for Jesus, the Lamb of God to be recognized as the ultimate and final sacrifice for sin in the New Testament.
In addition, you'll understand why when the term, "progressive revelation" is used by cults, such as the Mormon Church to justify receiving a "new" revelation from God is completely false.
God's continuing revelation never contradicts or cancels his previous revelation.
If you have questions about the class, please contact Yvon Prehn at yvonprehn@gmail.com.