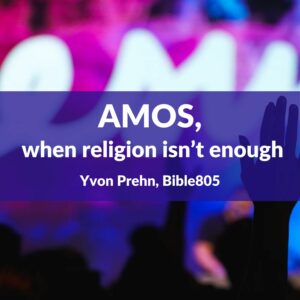 What kind of religion pleases God?
•         Is going to church enough?
•         Do we need to read our Bibles every day?
•         What about taking care of the less fortunate?
•         People asked the same questions when the prophet Amos lived, and we'll look at his answers in our lesson today.
Below is the podcast and video and below them are the notes/transcript of the lesson.
As promised in the lesson, for a list of organizations that fulfill the challenges of Amos and the commands of Matt. 25, click the following link: https://wp.me/pazrJD-qT
AMOS,
when religion isn't enough—how God wants us to live
Teacher, Yvon Prehn
Do you ever wonder what God wants you to do?
•              In Dallas Willard's book, Hearing God, he says that one of the most frequently asked questions of Christians is "What is God's will for my life?" It's a question I'm sure many of us have asked.
•              In today's lesson we'll be looking at the book of Amos, one of the Old Testament prophets for help in answering this question.
•              There are a number of intense, but practical applications coming, please hang in there until the end as this is very important.
•              First, I want to lay a solid, factual foundation for why we can trust the truth of what we are studying.
Real people in identifiable history
•              Where we are—see chart available on www.Bible805.com.
•              Previous preaching by some of the most powerful prophets in human history, Elijah and Elisha after about 60 years there was little godly living left in the land.
•              God, in His mercy sends them two more prophets,
•              Amos and Hosea.
•              Real people, living in real times, with messages of real consequences.
Why this is so important
•              The importance of being able to share a chart like this has recently been emphasized to me as I've been teaching a series at church on why we can trust the Bible.
•              I've been using my materials here.
•              In going over the scriptures of other religions I've been reminded how other religion's (and I say this with respect) scriptures communicate with fairy tales, fables, tradition, or mixed musings totally untethered to any real, historical event.
•              The Christian Bible is unique in its historical markers, here is what I mean by that…..
Most of the books we will study clearly identify when they took place
•              Far from fairy tales or vague spiritual histories, many start with statements like this:
•              The words of Amos, one of the shepherds of Tekoa—the vision he saw concerning Israel two years before the earthquake when Uzziah was king of Judah and Jeroboam son of Jehoash was king of Israel. Amos 1:1
•              The listing of kings and/or specific events is why I was able to put together a timeline that would line up with history and give you the proper context of the prophet's message.
Archeological verifications of a major event
•              Evidence of earthquake described:
•              Archaeologists have found massive amounts of earthquake damage in sites throughout the ancient kingdoms of Judah, Israel and the Philistines. This earthquake damage dates to around 760 B.C.E., right around the latter third of Uzziah's reign. Tilted walls, collapsed floors and more are attributed to this earthquake. So great is the amount of evidence, that scientists have been able to determine the epicenter was likely in Lebanon, and that its strength was probably around a magnitude 8.2 and lasted 90 seconds
•             https://watchjerusalem.co.il/479-uzziah-uncovering-a-king-of-judah
Also discovered were seals and plaque with Uzziah's, (Azariah's) name
Important as this is, this isn't an archeology lesson
•              But again, an emphasis that the Bible speaks to us in real-life situations.
•              The times were ones of political turmoil.
•              In a relatively wealthy, prosperous nation.
•              Ecological disaster-earthquake.
•              Spiritual decline.
•              Sounds familiar, doesn't it?
Into this world, God sends His Prophet: Amos
•              Name means Burden-bearer.
•              From Judah, sent north to Israel.
•              He was not formally trained.
•              He was a shepherd and farmer.
•              But because of the power of his preaching, he has been called "the first Great Reformer."
•              APPLICATION: God's calls can be unpredictable and if He called you to something, He believes you can do it, and  that is the only thing that matters.
•              Today anyone can start a podcast, a blog, do you YouTube videos to share God's message to our world.
•              Your audience may not be large and you most likely won't make much of an income, but if you feel called, go for it!
In that, his calling not unusual
•              Amos 3:7 Surely the Sovereign LORD does nothing without revealing his plan to his servants the prophets.
•              Jn. 15:15 I no longer call you servants, because a servant does not know his master's business. Instead, I have called you friends, for everything that I learned from my Father I have made known to you.
•              "As the Father has sent me, I am sending you." Jn 20:21
•              You are listening to this lesson for a reason, and I guess it is fair warning that God wants us to not only learn from his Word, but to share it with our world in whatever way we can.
•              Earlier I challenged you to consider ways you can get a message out there—but you may not be called to that.
•              Please though, do let others know about the resources here at www.Bible805, anyone can do that and I very much need your help.
Back to Amos—
the Book begins with Judgment on surrounding nations
•              Damascus, for cruelty in war
•              Tyre, sold 'brothers'
•              Gaza, slave traffic
•              Ammon, excessive cruelty in war
•              Edom, anger, fury to brother
•              Moab, excessive vengeance
•              Judah, idolatry
•              A reminder that all are accountable, Rom. 1
•              God' expectations of humanity are universal—there are no excuses for cruelty to others.
Now to Israel
•              Because they were chosen by God, they deserve greater judgment, "You I have chosen" Amos 3:2 "therefore I will punish"
•              "To whom much is given, much is required" Luke 12:48, as a nation they were wealthy and strong, and yet….
•              Their wrongs are listed c in. 2,3
–           Trample poor
–           Injustice in many areas
–           Idol worship
–           Forbid prophets to speak
–           Excessive drinking
–           Self-indulgence
•               Amos 4: 1 Hear this word, you cows of Bashan on Mount Samaria, you women who oppress the poor and crush the needy and say to your husbands, "Bring us some drinks!"
Additional verses
•              Amos 2:6 "For three sins of Israel, even for four, I will not relent.
They sell the innocent for silver,  and the needy for a pair of sandals.
7 They trample on the heads of the poor as on the dust of the ground  and deny justice to the oppressed.. . .
8 They lie down beside every altar on garments taken in pledge.
In the house of their god they drink wine taken as fines.
9 "Yet I destroyed the Amorites before them,….
10 I brought you up out of Egypt…
11 "I also raised up prophets from among your children
and Nazirites from among your youths.
Is this not true, people of Israel?" declares the Lord.
12 "But you made the Nazirites drink wine
and commanded the prophets not to prophesy—
On commanding prophets to not preach, how it can happen today
•              Prophecy is not only about foretelling the future, but FORTH-TELLING the messages of God
•              Contemporary instances of it, we must look at ourselves
•              How often in churches is the Word of God preached?
•              Don't think "Oh, we do that!" Let's get specific.
•              Look at sermon topics: How many explain a passage of the Bible and ask, so what should we do because of this? and  How many are on how can I be prosperous or healthy or feel better?
•              Or our small groups, how often do we again, take a passage of the Bible, study it, and ask, so how can we apply this to our lives? Or how much consists primarily of  a discussion "How do you feel about this?"
•              Sharing concerns is important, but we need to study and apply God's Word for life-change that is pleasing to God.
•              In your church communications, how often do you advertise some upcoming FUN Christian event and how aggressively do you promote a class on the Bible? Or how often does your church have a class on the Bible?
•              The resources of Bible805.com are there for you!
I don't want to be on a rant, but as Amos said . . .
•                  These are the words of my Master God.
"I'll send a famine through the whole country.
It won't be food or water that's lacking, but my Word.
    People will drift from one end of the country to the other,
roam to the north, wander to the east.
They'll go anywhere, listen to anyone,
hoping to hear God's Word—but they won't hear it." Amos 8:11-12
Sadly, in many places it is here now
•              We need God's Word, more than ever in our churches, in small groups, in the hearts of God's people.
•              Because we have lost the true leavening of the Word in public discourse, in schools, everywhere.
•              Not that long ago society was based on Christian values.
•              It simply isn't any longer.
•              And the problem isn't only in the society.
I think most Christians sincerely want to please God
•              But they simply don't know how to do it.
•              And the reason they don't is simple—They don't know God's Word.
•              And if they do feel they know it, what they know is often scattered bits and pieces of verses pulled out of context to fix whatever emotional need they have or support whatever political view they espouse at the moment.
•              That's why I started Bible805.com, why I do what I do, and I ask for your prayers that I be faithful in God's calling in it. PLEASE go to the many resources on the website and many more coming.
•              I feel driven by it because our world is so much like it was in Amos' day.
Outwardly very religious
•              But it was a religion mixed with idolatry.
•              Jeroboam set up two golden calves at Bethel and Dan, after kingdom split, where the people worshipped them as well as Jehovah
•              We need to ask ourselves, do we go to church and then worship our idols of self-indulgence, selfishness, lack of care for the less fortunate?
•              God's response through Amos:
•              "I hate, I despise your religious festivals; your assemblies are a stench to me.
Even though you bring me burnt offerings and grain offerings,
I will not accept them.
Though you bring choice fellowship offerings,
I will have no regard for them.
Away with the noise of your songs!
I will not listen to the music of your harps."
Amos 5:21-2
Response God wants
Seek good, not evil,
that you may live.
Then the LORD God Almighty will be with you,
just as you say he is.
Hate evil, love good;
maintain justice in the courts.
Perhaps the LORD God Almighty will have mercy on the remnant of Joseph. Amos 5:14-15

But let justice roll on like a river,
righteousness like a never-failing stream! Amos 5:24
What is "justice"?
From Relevant magazine:
•              The Hebrew word for "justice," mishpat, occurs in its various forms more than 200 times in the Hebrew Old Testament. Its most basic meaning is to treat people equitably. It means acquitting or punishing every person on the merits of the case, regardless of race or social status. Anyone who does the same wrong should be given the same penalty. [which was extremely rare in the ancient world]
•              But mishpat means more than just the punishment of wrongdoing. It also means giving people their rights.
•              Mishpat, then, is giving people what they are due, whether punishment or protection or care.
•              This is why, if you look at every place the word is used in the Old Testament, several classes of persons continually come up. Over and over again, mishpat describes taking up the care and cause of widows, orphans, immigrants and the poor—those who have been called "the quartet of the vulnerable."
•              In premodern, agrarian societies, these four groups had no social power. They lived at subsistence level and were only days from starvation if there was any famine, invasion or even minor social unrest. Today, this quartet would be expanded to include the refugee, the migrant worker, the homeless and many single parents and elderly people.
•             Read more at http://www.relevantmagazine.com/god/practical-faith/what-biblical-justice#1o8p9RjzBSgF0seW.99
A similar passage helps explain it
•              Isaiah 58 tells us about the importance of justice, the meaning of justice, and how to become people who do it.
•              Begin at verse two, where God describes a particular group of people, who, the passage says, "day after day … seek me out."
•               They want to know, "Why have we humbled ourselves and you haven't noticed?" In spite of their outwardly religious lives, God is not answering their prayers.
•              God's response is startling. He says, "Let me tell you what a fast is. Let me tell you what worship is. Let me tell you what it really means to seek me. In Isaiah 58:5-7, God says, "Is it not to loose the chains of injustice, to untie the cords of the yoke and set the oppressed free? Is not the fast I chose to share your food with the hungry, to provide the poor wanderer with shelter, to see the naked and clothe him?" 
A contemporary prophet to Judah also reminds people of the need for justice
•              He has shown you, O mortal, what is good.
And what does the Lord require of you?
To act justly and to love mercy
and to walk humbly with your God. Micah 6:8
•              In addition to justice, mercy needed because we have been shown mercy and need to remember that when acting with justice.
•              Humility needed above all, because all we have and are is because of God.
•              Pride and arrogance are the opposite of justice, mercy, and humility and pride and arrogance should never be characteristic of God's people.
In the emphasis on justice, Amos reminded the people that how we treat others is important to God
•              God cares deeply for the poor, the widow, alien.
•              He expects his people to do the same.
•              There is nothing in us to deserve God's love and mercy.
•              We are all aliens from God's household,
•              We are all spiritually bankrupt, poor.
•              God pours out his love and blessings to us and as His people (in both Israel and today) He expects us to do the same.
Their response—Instead of repentance—
Response by religious leader
•               Amos 7:10 Then Amaziah the priest of Bethel sent a message to Jeroboam king of Israel: "Amos is raising a conspiracy against you in the very heart of Israel. The land cannot bear all his words. . . . . Amaziah said to Amos, "Get out, you seer! Go back to the land of Judah. Earn your bread there and do your prophesying there. 13 Don't prophesy anymore at Bethel, because this is the king's sanctuary and the temple of the kingdom."
•               14 Amos answered Amaziah, "I was neither a prophet nor the son of a prophet, but I was a shepherd, and I also took care of sycamore-fig trees. 15 But the LORD took me from tending the flock and said to me, 'Go, prophesy to my people Israel.' 16 Now then, hear the word of the LORD.
•              People didn't want to hear messages of justice, kindness and mercy, any more then than they do today.
Amos responds with his message of judgment
•              Hear this, you who trample the needy
and do away with the poor of the land, . . . .
I will turn your religious festivals into mourning and all your singing into weeping.
I will make all of you wear sackcloth
and shave your heads. I will make that time like mourning for an only son and the end of it like a bitter day.. . . .Amos 8
•              "For I will give the command,
and I will shake the people of Israel among all the nations
as grain is shaken in a sieve, and not a pebble will reach the ground.
10 All the sinners among my people will die by the sword,
all those who say,
'Disaster will not overtake or meet us.' Amos 9:9-10
•              In less than 50 years, Assyria conquered them.
Yet beyond judgment Amos prophesied
mercy & hope
•               "In that day   "I will restore David's fallen shelter—
I will repair its broken walls
and restore its ruins—
and will rebuild it as it used to be,
so that they may possess the remnant of Edom
and all the nations that bear my name,"
declares the LORD, who will do these things. . . .
•              and I will bring my people Israel back from exile
•              "They will rebuild the ruined cities and live in them.
They will plant vineyards and drink their wine;
they will make gardens and eat their fruit.
I will plant Israel in their own land,
never again to be uprooted
from the land I have given them," says the LORD your God.
Amos 9: 11-15
•              A constant message in all the prophets is of hope and mercy after judgment—if there is time to repent, but we can't count on that.
Because we only have a limited time to apply these lessons, as we are reminded
•             Matt 25: 31 "When the Son of Man comes in his glory, and all the angels with him, he will sit on his glorious throne. 32 All the nations will be gathered before him, and he will separate the people one from another as a shepherd separates the sheep from the goats. 33 He will put the sheep on his right and the goats on his left.
•             34 "Then the King will say to those on his right, 'Come, you who are blessed by my Father; take your inheritance, the kingdom prepared for you since the creation of the world. 35 For I was hungry and you gave me something to eat, I was thirsty and you gave me something to drink, I was a stranger and you invited me in, 36 I needed clothes and you clothed me, I was sick and you looked after me, I was in prison and you came to visit me.'
•             37 "Then the righteous will answer him, 'Lord, when did we see you hungry and feed you, or thirsty and give you something to drink?38 When did we see you a stranger and invite you in, or needing clothes and clothe you? 39 When did we see you sick or in prison and go to visit you?'
•             40 "The King will reply, 'Truly I tell you, whatever you did for one of the least of these brothers and sisters of mine, you did for me.'
•             41 "Then he will say to those on his left, 'Depart from me, you who are cursed, into the eternal fire prepared for the devil and his angels. 42 For I was hungry and you gave me nothing to eat, I was thirsty and you gave me nothing to drink, 43 I was a stranger and you did not invite me in, I needed clothes and you did not clothe me, I was sick and in prison and you did not look after me.'
•             44 "They also will answer, 'Lord, when did we see you hungry or thirsty or a stranger or needing clothes or sick or in prison, and did not help you?'
•             45 "He will reply, 'Truly I tell you, whatever you did not do for one of the least of these, you did not do for me.'
•             46 "Then they will go away to eternal punishment, but the righteous to eternal life."
God makes it very clear what He wants, what He expects from His people then and now
•              In a time when people are looking for signs of the end of the  world.
•              Or trying to figure out dates and times.
•              We need the reminder that those are things we do NOT know, and Jesus told us we won't know.
•              But what we do know is what is important to God at the final judgement, this passage is very clear about that.
•              If we don't know how to live out these commands and we may not or may not be able to do some things ourselves, on Bible805.com is a list of some of my favorite ministries that live out these expectations of Jesus.
Applications: Are we living God's priorities according to Amos and one of the final messages of Jesus?
•              Justice and care for others, especially the downtrodden is not optional, but a key expectation of God's people.
•              Religious observances do not take the place of actions, reorienting life priorities.
•              You don't have to do really big things, but we need to do whatever we can.
•              God's mercy is long, but should never be taken for granted.
•              We should be people whose lives reflect justice, mercy, and humility in all we do and especially how we treat others, always remembering the message of Amos and of our Lord,
•               "The King will reply, 'Truly I tell you, whatever you did for one of the least of these brothers and sisters of mine, you did for me.' Matt. 25:40
FINAL SLIDE for PODS with devotion
•              That's all for now,
•              Please check out the notes from this lesson, they are in Downloadable PDF format and other materials at www.bible805.com